Alaska Kids Fishing Photos
Youth, fish and smiles in AK.
There is nothing better than the smile on a kid while they are holding up their prize catch. We encourage you to take a kid fishing in Alaska. Take a picture of their catch and let us post it here. They don't have to be trophy fish, trophy smiles are what it's all about.
Youngsters with their prized catch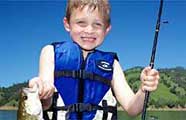 This could be your child, grandchild or any kid you took fishing. Take a picture and send it to us. We will happily post it here for them.
---
Take a kid fishing and bring your camera! These are a few of the places to take them fishing and get some great pictures.
Anchorage
- Beach Lake Park
- Campbell Point Lake
- Cheney Lake Park
- Jewel Lake
- Kincaid Park
- Lower Fire Lake
- Mirror Lake
- Ship Creek in Anchorage
Fairbanks
- Birch Lake
- Chena Lake Park
Juneau
- Auke Lake
- Cowee Creek
- Fish Creek
- Montana Creek
- Peterson Lake
- Twin Lake
- Windfall Lake
Nome
- Cripple River
- Niukluk River
- Nome River
- Snake River
- Tisuk River
Kids fishing photos, by state.
Post AK, kids fishing pictures.
If you have photos of proud kids and their prized fish they caught in Alaska, please submit them for posting here.
Youth fishing pictures in Alaska.