Alabama Kids Fishing Photos
Youth, fish and smiles in AL.
There is nothing better than the smile on a kid while they are holding up their prize catch. We encourage you to take a kid fishing in Alabama. Take a picture of their catch and let us post it here. They don't have to be trophy fish, trophy smiles are what it's all about.
Youngsters with their prized catch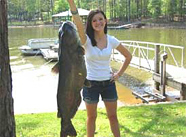 Shelby Wages with her 47-pound catfish she caught from Logan Martin Lake.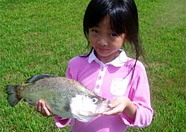 Patricia Gao shows off a nice crappie she caught at a local lake near Montgomery, Alabama.
Take a kid fishing and bring your camera! These are a few of the places to take them fishing and get some great pictures.
Consider these small lakes, ponds, creeks and urban fishing locations as places to take a kid fishing in Alabama.
Birmingham
- East Lake Park
- Oak Mountain State Park
Clanton
- Lake Mitchell
Florence
- Pickwick Lake
- Spring Park
- McFarland Park
- Wilson Lake
Gadsden
- Lake Neely Henry
Huntsville
- Brahan Spring Park
- Madison County Lake
Mobile
- Chickasabogue Park
- Dauphin Island Pier
- Gulf State Park
- Langan Park
- Lusher Park
- McNally Park
- Meaher State Park
Montgomery
- Lake Jordan
Tuscaloosa
- Lake Tuscaloosa
- Holt Reservoir
- Oliver Reservoir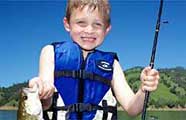 This could be your child, grandchild or any kid you took fishing. Take a picture and send it to us. We will happily post it here for them.
---
Kids fishing photos, by state.
Post AL, kids fishing pictures.
If you have photos of proud kids and their prized fish they caught in Alabama, please submit them for posting here.
Youth fishing pictures in Alabama.