Arkansas Kids Fishing Photos
Youth, fish and smiles in AR.
There is nothing better than the smile on a kid while they are holding up their prize catch. We encourage you to take a kid fishing in Arkansas. Take a picture of their catch and let us post it here. They don't have to be trophy fish, trophy smiles are what it's all about.
Youngsters with their prized catch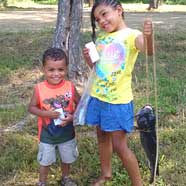 Adalynn Henderson, age 5 and her little brother Carter Brooks, age 2 caught two flathead catfish at the Bell Lake youth fishing tournament in Horatio Arkansas. They were fishing with worms and using 3/0 catfish hooks.
---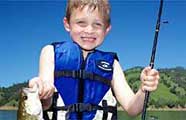 This could be your child, grandchild or any kid you took fishing. Take a picture and send it to us. We will happily post it here for them.
---
Take a kid fishing and bring your camera! These are a few of the places to take them fishing and get some great pictures.
Consider these small lakes, ponds, creeks and urban fishing locations as places to take a kid fishing in Arkansas.
Conway
- Woolly Hollow State Park
- Lake Conway
Dequeen
- Dequeen Lake
Dierks
- Dierks Lake
- Gillham Lake
Eudora
- Lake Chicot State Park
- Lake Village Pond
Fayetteville
- Gulley Park
- Lake Atalanta
- Lake Fayetteville
- Leatherwood Park
- Murphy Lake
- Sweetbriar Park
Forrest City
- Village Creek State Park
Heber Springs
- Brock Creek Lakes
- Greers Ferry Lake
Hot Springs
- Ashley Creek
- Blue Mountain Lake
- Cove Lake
- Degray Lake
- Lake Hamilton
- Ouachita State Park
Jonesboro
- Craighead Forest Lake
- Poinsett State Park
Little Rock
- Brodie Creek Park
- Cherrywood Lake
- Crump Park
- Kiwanis Park Pond
- Lake Conway
- Lake Valencia
- MacArthur Park Pond
- Otter Creek Park
- Rock Creek
- Sherwood Community Pond
- Willow Beach Pond
Marianna
- Bear Creek Lake
Nashville
- Millwood State Park
Russellville
- Dardanelle State Park
- Pleasant View Park Pond
Van Buren
- Lake Fort Smith
Warren
- White Oak Park
West Memphis
- Horseshoe Lake
- Tilden Rogers Park
Kids fishing photos, by state.

Post AR, kids fishing pictures.
If you have photos of proud kids and their prized fish they caught in Arkansas, please submit them for posting here.
Youth fishing pictures in Arkansas.