California Kids Fishing Photos
Youth, fish and smiles in CA.
There is nothing better than the smile on a kid while they are holding up their prize catch. We encourage you to take a kid fishing in California. Take a picture of their catch and let us post it here. They don't have to be trophy fish, trophy smiles are what it's all about.
Youngsters with their prized catch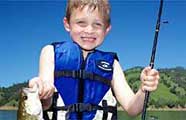 This could be your child, grandchild or any kid you took fishing. Take a picture and send it to us. We will happily post it here for them.
---
Take a kid fishing and bring your camera! These are a few of the places to take them fishing and get some great pictures.
Clear Lake
- Redbud City Park
Fresno
- Roeding Park
Los Angeles
- Alondra Park Lake
- Belvedere Park Lake
- Cerritos Park Lake
- Debs Lake
- Downey Wilderness Park
- Echo Park Lake
- Hollenbeck Lake
- Kenneth Hahn Rec Area
- La Mirada Park Lake
- Lake Balboa
- Lake Elizabeth
- Legg Lake
- Lincoln Park Lake
- Peck Road Park Lake
- Reseda Park Lake
Oakland
- Aquatic Park
- Cesar Chavez Park
- Cull Canyon Lake
- Estuary Park Pier
- Fruitvale Bridge Park
- Lake Chabot
- Lake Merritt
- Lakeshore Park
- Portview Park Pier
- Quarry Lake
- Shorebird Park
Orange County
- Centennial Regional Park
- Clark Regional Park
- Craig Regional Park
- Eisenhower Park
- Huntington Central Park
- Irvine Park
- Mason Regional Park
- Mile Square Park
- Salt Creek Beach
- Tri-City Park
- Yorba Park
Richmond
- Contra Loma Park
- Ellis Lake Park
- Heather Farm Park
- Tilden Regional Park
- Newhall Community Park
Sacramento
- Ancil Hoffman Park
- Bannon Creek Park
- Discovery Park
- Elk Grove Park Lake
- Gibson Ranch Park
- Mather Regional Park
- McKinley Park
- Miller Park
- Southside Park
- William Land Park
San Bernardino
- Seccombe Lake Park
San Diego
- Chollas Lake Park
- Lake Morena Park
- Lake Murray Park
San Francisco
- Golden Gate Park
- North Lake
- South Lake
San Jose
- Almaden Lake Park
- Coyote Creek
- Lake Cunningham Park
- Vasona Lake Park
Santa Cruz
- Westlake Park
Santa Rosa
- Lake Ralphine
Kids fishing photos, by state.
Post CA, kids fishing pictures.
If you have photos of proud kids and their prized fish they caught in California, please submit them for posting here.
Youth fishing pictures in California.