Colorado Fishing Photos & Articles
Share your successes and fishing knowledge with our visitors. Our readers would like to know where and how you caught your trophy fish.
Learn the tips, trick and secrets to successful fishing in Colorado for largemouth bass, smallmouth bass, spotted bass, channel catfish, blue catfish, black crappie, white crappie, walleye, rainbow trout, cutthroat trout, brook trout, brown trout, lake trout, bluegill, green sunfish, rock bass, white bass, yellow perch, chinook salmon, kokanee salmon, stripers, northern pike, sauger, saugeye and tiger muskie. See fishing photos from around The Centennial State. Share some of your insights to CO fishing with your articles and photos.
Colorado Fishing Photos
AA-Fishing has a dedicated page for kids fishing pictures. All other fishing photos will be posted here. If you wish to post photos, please submit them for consideration.
---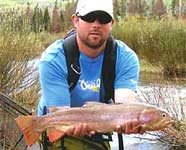 Aaron Grondin caught this excellent trout at Steamboat Springs, Colorado.
---
This 19" cutthroat trout was caught by Gary Cudmore. Here's how. I practice catch and release and find the Cutthroat trout to be a beautiful looking fish native to Colorado. I live at Copper Mountain Colorado and start many of my days with a 1-2 hour fishing session. I fish the Clinton Gulch reservoir about 10 minutes from Copper Mountain. This reservoir is very cold and about 230 feet deep and does get heavy fishing pressure.Most fishermen either use bait or flies- I prefer lures and ultra light tackle for a couple of reasons.It is a more active style of fishing than still fishing with bait and with lures I can catch and release without harming the fish. I use a 3/8 ounce silver spoon, fairly big for the ultrahigh tackle but if you want to catch big fish you need to use a big lure.The fish in the picture is 19\", just 1" short of receiving a Master Angler certificate from Colorado DOW, the requirement is 20". Please enjoy the photo of a handsome male Cutthroat that was released to be caught another day.
---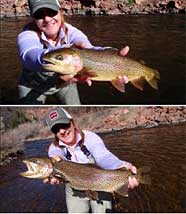 Jamie Jackson, of Longmont CO., says she is a proud girly girl that is a member of the "20/20 club".
Jamie caught this nice rainbow trout and cutthroat trout both from the Frying Pan River, in Basalt Colorado - Spring break 2015.
---
Colorado Fishing Articles
Spring Largemouth Fishing on the Front Range.
By Josh Hinchberger
Winter Fly Fishing Arkansas River Tail water in Pueblo, Colorado
By Ron Van Valkenburg
Catfishing in Colorado
By John Mccroskey
Native Colorado Cutthroat Trout fishing
By Gary Cudmore
There are unique stories to be told about fishing in Colorado. Whether you are a professional writer, or an angler with a story to share we will gladly consider your article for publication here.
Local fishing articles and photos, listed by state
Post Colorado fishing photos and articles.