Colorado Kids Fishing Photos
Youth, fish and smiles in CO.
There is nothing better than the smile on a kid while they are holding up their prize catch. We encourage you to take a kid fishing in Colorado. Take a picture of their catch and let us post it here. They don't have to be trophy fish, trophy smiles are what it's all about.
Youngsters with their prized catch
Michael Snider
Holds a stringer of catfish he caught on worms at Geneva Lake in Littleton Colorado.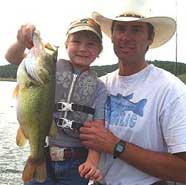 Colter Cordell Carnley
At age 6, Colter shows off a nice bass he caught all by himself at Echo Lake at Pagosa Springs, Colorado.
---
Michael Martinez Snider
This 5 years old, caught a nice rainbow trout using Captain America powerbait at Centennial Lake in Colorado.
Take a kid fishing and bring your camera!
Kids fishing photos, by state.
Post CO kids fishing pictures.
If you have photos of proud kids and their prized fish they caught in Colorado, please submit them for posting here.
Youth fishing pictures in Colorado.