Connecticut Kids Fishing Photos
Youth, fish and smiles in CT.
There is nothing better than the smile on a kid while they are holding up their prize catch. We encourage you to take a kid fishing in Connecticut. Take a picture of their catch and let us post it here. They don't have to be trophy fish, trophy smiles are what it's all about.
Youngsters with their prized catch
This could be your child, grandchild or any kid you took fishing. Take a picture and send it to us. We will happily post it here for them.
---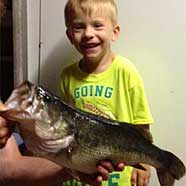 Caden Belisle, age 3 with his 5 lb, trophy bass from Cedar Lake in Wolcott. Caden caught it on a plastic worm.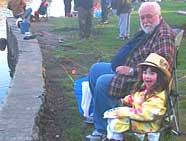 Makendra Mowad fishing with her Papa on opening day. She caught her first fish too!
---
Take a kid fishing and bring your camera! These are a few of the places to take them fishing and get some great pictures.
Danbury
- Kaatz Pond Park
Hartford
- Birge Pond Park
- Crescent Lake
- Page Park
- Stanley Quarter Pond
Middletown
- Beseck Lake
New Haven
- Beaver Ponds Park
- Criscuolo Park
- East Rock Park
- Edgewood Park
Salem
- Gardner Lake
Stamford
- Cove Island Park
- Cummings Park
- River Trail in Mianus River Park
Kids fishing photos, by state.
Post CT, kids fishing pictures.
If you have photos of proud kids and their prized fish they caught in Connecticut, please submit them for posting here.
Youth fishing pictures in Connecticut.