Florida Kids Fishing Photos
Youth, fish and smiles in FL.
There is nothing better than the smile on a kid while they are holding up their prize catch. We encourage you to take a kid fishing in Florida. Take a picture of their catch and let us post it here. They don't have to be trophy fish, trophy smiles are what it's all about.
Youngsters with their prized catch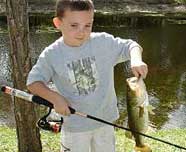 Caleb Walker, age 5, shows off his first bass on an artificial worm.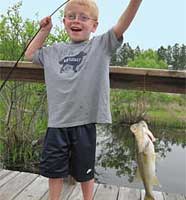 Aidan Hess, age 5, showing his cousin he can also catch bass on an artificial worm.
---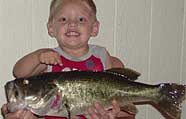 Collin T Bellomy, age 3, caught this nice 5-pound bass in the Withlacoochee River.
---
Take a kid fishing and bring your camera! These are a few of the places to take them fishing and get some great pictures.
Boca Raton
- Cliff Lake Park
- Colee Hammock Park
- Hugh Taylor Birch Park
- Mills Pond Park
- Riverland Woods Park
- Snyder Park
- Tarpon Cove Park
- Townsend Park
Callahan
- Amelia Island Park
Cape Coral
- Horton Park
Charlotte
- Myakka River State Park
Clearwater
- Bartlett Park
- Boyd Hill Park
- Chautauqua Park
- Childs Park Lake
- Cliff Stephens Park
- Cook Park
- Crescent Lake Park
- Demens Landing Park
- Fossil Park
- Mirror Lake Park
Everglades
- Dry Tortugas Natl Park
Gainsville
- Nature Park
- Ritterhoff Park
- Tuscawilla Park
Jacksonville
- Fort George River
- Huguenot Memorial Park
- Kathryn Abby Hanna Park
Kissimmee
- Lake Kissimmee
- Lake Tohopekaliga
Lakeland
- Lake Bonny Shore Park
- Lake Hollingsworth Park
- Lake Parker Park
- Lake Somerset Park
- Peterson Park
- Sertoma Park
Miami
- Biscayne National Park
- Charles Hadley Park
- Jose Marti Park
- Oleta River State Park
Orlando
- Barber Park
- Bithlo Community Park
- Blanchard Park
- Crystal Lake Park
- Downey Park
- Gordon Barnett Park
- Hourglass Park
- Lake Baldwin
- Lake Fairview Park
- Lake Ivanhoe Park
- Lake Underhill Park
- Lawne Lake
- Magnolia Park
- Millennium Park
- Roosevelt Martin Park
- Shadow Bay Park Ponds
Palm Beach
- Boat Club Park
- Knowles Park
- Lake Mangonia Park
- Okeeheelee Park
- Pioneer Canal Park
- Quiet Waters Park
- Sand Hill Crane Park
- South Beach Park
Panama City
- St. Andrews State Park
Pensacola
- Big Lagoon State Park
- Escambia River
- Perdido Key State Park
- Wayside Park
Tallahassee
- Lake Talquin State park
Tampa
- Al Lopez Park
- Bobby Hicks Park
- Cypress Point Park
- Davis Islands Park
- DeSoto Park
- Egmont Key State Park
- Gadsden Park
- Lowry Park
- Picnic Island Beach
- Rivercove Park
- Riverside Garden Park
- Rowlett Park
- Sulphur Springs Park
- Tappan Park
- Tony Janus Park
Kids fishing photos, by state.
Post FL, kids fishing pictures.
If you have photos of proud kids and their prized fish they caught in Florida, please submit them for posting here.
Youth fishing pictures in Florida.