Georgia Fishing Photos & Articles
Share your successes and fishing knowledge with our visitors. Our readers would like to know where and how you caught your trophy fish.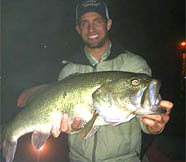 Kory Chastain caught this 10.785 lb bass while night fishing at Lake Blue Ridge. He was fishing a finesse plastic work on a texas rig right on the bank and around heavy structure.
Georgia Fishing Articles
Guide To State's Top Trout Streams
By Joe DiPietro
Eight trout streams profiled, ranging from put-and-take to fly-fishing waters.
---
Learn the tips, trick and secrets to successful fishing in Georgia for largemouth bass, smallmouth bass, spotted bass, shoal bass, redeye bass, channel catfish, flathead catfish, blue catfish, white catfish, black crappie, white crappie, walleye, rainbow trout, brook trout, brown trout, bluegill, flier sunfish, green sunfish, redbreast sunfish, redear sunfish, spotted sunfish, warmouth, white bass, yellow perch, stripers, bowfin, chain pickerel, longnose gar and sauger. See fishing photos from around the Peach State. Share some of your insights to GA fishing with your articles and photos.
---
Georgia Fishing Photos & Stories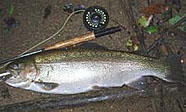 Successful Public land fishing
By Todd Dillinger
Since I cannot afford to be in a club or hire a guide to fly fish, again I arrived at another public land area. I have been here before and walked the beaten trails made by so many others and a few who litter the ground with their trash. I return here because the river has allowed me to take and return beautiful trout. Both Rainbows and Browns some as small as sardines and others in the teens. I have reached the 18 to 19 inch range several times and even a 22inch rainbow out of the heavily fished area. Sometimes I will go all day and never catch a trout. Other days, 10 or 12 trout in just a few hours. Sunday July 23, 2006 a light rain starts to fall in the early morning. Instantly I am wet head to toe and I just stepped in the river. First fly cast I am awarded a 12 inch rainbow, and then nothing for another hour. Then I hooked this rod bender, biggest trout I have ever caught. Never did I imagine getting a trout so massive out of this area.
---
AA-Fishing has a dedicated page for kids fishing pictures. All other fishing photos will be posted here. If you wish to post photos, please submit them for consideration.
There are unique stories to be told about fishing in Georgia. Whether you are a professional writer, or an angler with a story to share we will gladly consider your article for publication here.
Local fishing articles and photos, listed by state
Post Georgia fishing photos and articles.