Georgia Kids Fishing Photos
Youth, fish and smiles in GA.
There is nothing better than the smile on a kid while they are holding up their prize catch. We encourage you to take a kid fishing in Georgia. Take a picture of their catch and let us post it here. They don't have to be trophy fish, trophy smiles are what it's all about.
Youngsters with their prized catch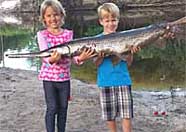 Lillian and Rylee Schwenn ages 4 and 5 both took turns reeling in this 54 inch, longnose gar that weighed 25 pounds. They caught their trophy from the Withlacoochee River.
---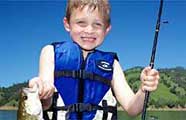 This could be your child, grandchild or any kid you took fishing. Take a picture and send it to us. We will happily post it here for them.
---
Take a kid fishing and bring your camera! These are a few of the places to take them fishing and get some great pictures.
Atlanta
- Bull Sluice Lake
- Chapel Hill Park
- Exchange Park
- Glen Emerald Lake
- Piedmont Park
- Stone Mountain Park
Columbus
- Cooper Creek Park
- Flat Rock Park
- Heath Park
- Lake Oliver Marina
- Rigdon Park
Ellijay
- Carters Lake
Gainesville
- Clarks Bridge Park
- Holly Park
- Lake Carlton
- Lanier Point Park
- Longwood Park
Macon
- Central City Park
Savannah
- Bowles Ford Park
- Daffin Park
- Tatemville Park
Kids fishing photos, by state.
Post GA, kids fishing pictures.
If you have photos of proud kids and their prized fish they caught in Georgia, please submit them for posting here.
Youth fishing pictures in Georgia.