Iowa Fishing Photos & Articles
Share your successes and fishing knowledge with our visitors. Our readers would like to know where and how you caught your trophy fish.
In Iowa one can fish for largemouth bass, smallmouth bass, channel catfish, flathead catfish, blue catfish, black crappie, white crappie, walleye, rainbow trout, brook trout, brown trout, bluegill, green sunfish, rock bass, white bass, yellow bass, yellow perch, stripers, bowfin, longnose gar, muskie, northern pike, paddlefish, sauger, saugeye and tiger muskie. Look here for articles to help you catch more fish in IA.
Iowa Fishing Articles
Iowa River Walleyes
By Timothy L. Anderson
Tips for Ice Fishing in Iowa
By Trails.com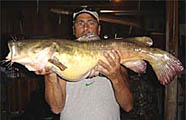 Learn the tips, trick and secrets to successful fishing in Iowa on major lakes like Big Creek Lake, Big Spirit Lake, Black Hawk Lake, Browns Lake, Brushy Creek Lake, Clear Lake, Coralville Lake, DeSoto Bend Lake, East Okoboji Lake, Five Island Lake, Lake Icaria, Lake MacBride, Lake Manawa, Little River Lake, Lost Island Lake, North Twin Lake, Pleasant Creek Lake, Rathbun Lake, Red Rock Lake, Rock Creek Lake, Saylorville Lake, Silver Lake Palo Alto, Spirit Lake, Storm Lake, Three Mile Lake, Trumbull Lake, Tuttle Lake, Twelve Mile Creek Lake and West Okoboji Lake. Share your insights to IA fishing with your stories, articles and photos.
Iowa Fishing Photos
AA-Fishing has a dedicated page for kids fishing pictures. All other fishing photos will be posted here. If you wish to post photos, please submit them for consideration.
---
There are unique stories to be told about fishing in Iowa. Whether you are a professional writer, or an angler with a story to share we will gladly consider your article for publication here.
Local fishing articles and photos, listed by state
Post Iowa fishing photos and articles.