Iowa Kids Fishing Photos
Youth, fish and smiles in IA.
There is nothing better than the smile on a kid while they are holding up their prize catch. We encourage you to take a kid fishing in Iowa. Take a picture of their catch and let us post it here. They don't have to be trophy fish, trophy smiles are what it's all about.
Youngsters with their prized catch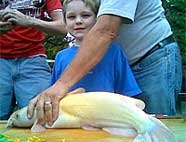 Alex Carlton, age 8 landed this big albino catfish at a fishing derby at Davenport Iowa's Vaderveer Lagoon. The fish was 25 inches long.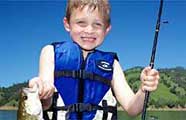 This could be your child, grandchild or any kid you took fishing. Take a picture and send it to us. We will happily post it here for them.
---
Take a kid fishing and bring your camera! These are a few of the places to take them fishing and get some great pictures.
Cedar Rapids
- Ellis Park
Davenport
- Credit Island Park
Des Moines
- Gray's Lake Park
Dubuque
- A.Y. McDonald Park
- Bergfeld Rec Area
Iowa City
- City Park
- Peninsula Park
Lehigh
- Brushy Creek Lake
Spirit Lake
- Little Spirit Lake
Waterloo
- Cedar Bend Park
- Cedar River Park
- Riverview Rec Area
Kids fishing photos, by state.
Post IA, kids fishing pictures.
If you have photos of proud kids and their prized fish they caught in Iowa, please submit them for posting here.
Youth fishing pictures in Iowa.