Idaho Kids Fishing Photos
Youth, fish and smiles in ID.
There is nothing better than the smile on a kid while they are holding up their prize catch. We encourage you to take a kid fishing in Idaho. Take a picture of their catch and let us post it here. They don't have to be trophy fish, trophy smiles are what it's all about.
Youngsters with their prized catch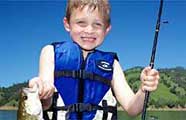 This could be your child, grandchild or any kid you took fishing. Take a picture and send it to us. We will happily post it here for them.
---
Take a kid fishing and bring your camera! These are a few of the places to take them fishing and get some great pictures.
Bear Lake
- Bear Lake Park
Boise
- Bernardine Quinn Park
- Boise River Greenbelt
- Deadwood Reservoir
- Lucky Peak Reservoir
- Parkcenter Park Pond
- Redwood Park
- Veteran's Park Pond
Franklin
- Condie Reservoir
- Glendale Reservoir
Idaho Falls
- Ririe Reservoir
Lowman
- Deadwood Reservoir
Malad City
- Daniels Reservoir
- Devil Creek Reservoir
Mountain Home
- Arrowrock Reservoir
- C J Strike Reservoir
Twin Falls
- Lud Drexler Park
Weiser
- Brownlee Can. Reservoir
- Paddock Valley Reservoir
Kids fishing photos, by state.
Post ID, kids fishing pictures.
If you have photos of proud kids and their prized fish they caught in Idaho, please submit them for posting here.
Youth fishing pictures in Idaho.