Illinois Kids Fishing Photos
Youth, fish and smiles in IL.
There is nothing better than the smile on a kid while they are holding up their prize catch. We encourage you to take a kid fishing in Illinois. Take a picture of their catch and let us post it here. They don't have to be trophy fish, trophy smiles are what it's all about.
Youngsters with their prized catch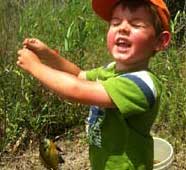 Three-year old Aiden Kaganofsky catches a nice bluegill on a worm while fishing with his Papa.
---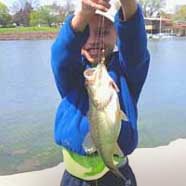 7-year old Anthony Stovall catches a largemouth at lake Opeka in Des Plaines, Illinois.
Hunter Harris, races motorcycles and loves to fish with his "Pa". One Sunday last summer he arrived home after just winning his very first race and decided that he wanted to go fishing. He grabbed his little Snoopy rod and went out to the pond. The next thing you know he is all excited. As you can see by the photo it was a good day for Hunter, to say the least.
Take a kid fishing and bring your camera!
Kids fishing photos, by state.
Post IL kids fishing pictures.
If you have photos of proud kids and their prized fish they caught in Illinois, please submit them for posting here.
Youth fishing pictures in Illinois.