Indiana Kids Fishing Photos
Youth, fish and smiles in IN.
There is nothing better than the smile on a kid while they are holding up their prize catch. We encourage you to take a kid fishing in Indiana. Take a picture of their catch and let us post it here. They don't have to be trophy fish, trophy smiles are what it's all about.
Youngsters with their prized catch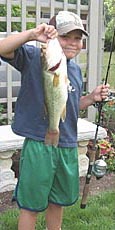 Jon Keesling, 8 years old caught this Bass while actually fishing for Bluegill. He had caught a Bluegill and was pulling it in when this Bass went after the Bluegill. Both fish were on the hook at the same time and then just before he landed them both the Bluegill flipped of the hook.
This fish was caught at Memorial Park lower lake just outside of New Castle, Indiana on June 15th 2007. We were all so excited for this was Jon's first Bass. The Bass was 17" in long.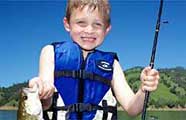 This could be your child, grandchild or any kid you took fishing. Take a picture and send it to us. We will happily post it here for them.
---
Take a kid fishing and bring your camera! These are a few of the places to take them fishing and get some great pictures.
Consider these small lakes, ponds, creeks and urban fishing locations as places to take a kid fishing in Indiana.
Alfordsville
- Dogwood Lake
Columbus
- Driftwood River
- Flatrock River
Elkhart
- Elkhart River
Fort Wayne
- Maumee River
- St. Joseph River
Gary
- Lake Etta Park
- Lake George
- Jeorse Park
- Whiting Park
- Wolf Lake Park
Indianapolis
- Geist Reservoir
La Porte
- Fish Lake
South Bend
- Saint Joseph River
- Potato Creek Park
Sullivan
- Sullivan County Park
Kids fishing photos, by state.
Post IN, kids fishing pictures.
If you have photos of proud kids and their prized fish they caught in Indiana, please submit them for posting here.
Youth fishing pictures in Indiana.