Kansas Kids Fishing Photos
Youth, fish and smiles in KS.
There is nothing better than the smile on a kid while they are holding up their prize catch. We encourage you to take a kid fishing in Kansas. Take a picture of their catch and let us post it here. They don't have to be trophy fish, trophy smiles are what it's all about.
Youngsters with their prized catch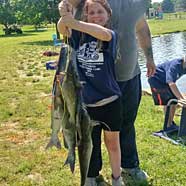 Korina Pruyn shows off a nice stringer of channel catfish which weighed roughly 20 pounds. She caught these during a fishing derby at Jerry Dishman Lake.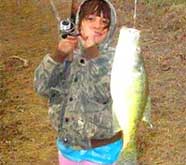 Callie Serber shows off a real nice crappie!
Take a kid fishing and bring your camera! These are a few of the places to take them fishing and get some great pictures.
Consider these small lakes, ponds, creeks and urban fishing locations as places to take a kid fishing in Kansas.
Atchison
- Atchison City Lakes
Dennis
- Big Hill Lake
Great Bend
- Great Bend Stone Lake
Hiawatha
- Brown State Fishing Lake
Herington
- Herington City Lakes
Lawrence
- Clinton State Park
- Douglas Fishing Lake
- Prairie Park
- Riverfront Park
Louisburg
- Hillsdale Reservoir
- Middle Creek Fishing Lake
- Louisburg City Lake
- Miami State Fishing Lake
- Osawatomie Beaver Lake
- Paola Lake Miola
Milford
- Geary Fishing Lake
- Milford Reservoir
- Milford State Park Pond
Olathe
- Amesbury Lake
- Kingston Lake Park
- Lake Lenexa
- Lake Olathe
- Lenexa Rose's Pond
- Olathe Cedar Lake
- Olathe Prairie Center Pond
- Overland Park Lakes
- Spring Hill City Lake
- Summercrest Lake
- Swarner Park
Overland Park
- Jerry's Lake
- Big Shunga Park
- Forty and Eight Lake
- Governor`s Ponds
- Lake Shawnee Park
- Lansing City Lake
- Leavenworth Fishing Lake
- Shawnee Fishing Lake
Pottawatomie
- Cross Creek Lake
- Wamego City Lake
Salina
- Salina Lakewood Lake
- Salina Indian Rock Lake
- Saline Fishing Lake
Topeka
- Topeka Cedar Crest Pond
- Topeka Central Park Lake
- Topeka Clarion Lake
- Topeka West Lake
Wichita
- Buffalo Park
- Chisholm Creek Park
- Dillons Pond Park
- Harveyville City Lake
- High Park Lake
- Meadows Park
- South Lakes Park
- Towne Park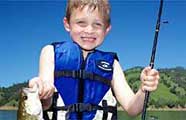 This could be your child, grandchild or any kid you took fishing. Take a picture and send it to us. We will happily post it here for them.
---
Kids fishing photos, by state.
Post KS, kids fishing pictures.
If you have photos of proud kids and their prized fish they caught in Kansas, please submit them for posting here.
Youth fishing pictures in Kansas.