Louisiana Kids Fishing Photos
Youth, fish and smiles in LA.
There is nothing better than the smile on a kid while they are holding up their prize catch. We encourage you to take a kid fishing in Louisiana. Take a picture of their catch and let us post it here. They don't have to be trophy fish, trophy smiles are what it's all about.
Youngsters with their prized catch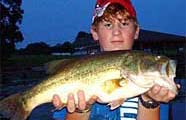 13-year old, Marshal Bingham shows off a very nice bass he caught from Lake Fork in Texas.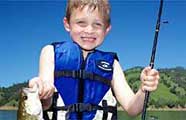 This could be your child, grandchild or any kid you took fishing. Take a picture and send it to us. We will happily post it here for them.
Take a kid fishing and bring your camera! These are a few of the places to take them fishing and get some great pictures.
Consider these small lakes, ponds, creeks and urban fishing locations as places to take a kid fishing in Louisiana.
Boyce
- Lake Rodemacher
Covington
- Fairview-Riverside Park
- Heritage Park
Lafayette
- Beaver Park
- Moore Park
- Veteran's Park
Lake Charles
- Holbrook Park
- LaFleur Park Beach
- Prien Lake Park
- Riverside Park
- Sam Houston Jones Park
- White Oak Park
Natchitoches
- Sibley Lake
New Orleans
- Fort Pike Historic Site
- New Orleans City Park
Shreveport
- C. Bickham Dickson Park
- Ford Park on Cross Lake
Kids fishing photos, by state.
Post LA, kids fishing pictures.
If you have photos of proud kids and their prized fish they caught in Louisiana, please submit them for posting here.
Youth fishing pictures in Louisiana.