Maryland Kids Fishing Photos
Youth, fish and smiles in MD.
There is nothing better than the smile on a kid while they are holding up their prize catch. We encourage you to take a kid fishing in Maryland. Take a picture of their catch and let us post it here. They don't have to be trophy fish, trophy smiles are what it's all about.
Youngsters with their prized catch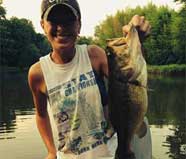 Callie Crouse shows off a real nice bass she caught at Chesapeake City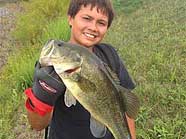 Chris Baker, 15 years old with a largemouth bass 7 1/2 pounds from a secret farm pond.
---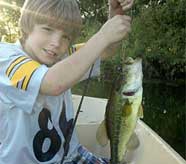 Sam Nitz with a nice Maryland bass.
---
Take a kid fishing and bring your camera! These are a few of the places to take them fishing and get some great pictures.
Consider these small lakes, ponds, creeks and urban fishing locations as places to take a kid fishing in Maryland.
Annapolis
- Sandy Point State Park
Baltimore
- Broening Park
- Fort Armistead Park
- Fort Smallwood Park
- Herring Run Park
- Loch Raven Reservoir
- Reedbird Park
- Turner Station Park
Bel Air
- Rocks State Park
- Susquehanna State Park
Boyds
- Little Seneca Lake
Callaway
- St. Mary's Lake
Columbia
- Centennial Lake
- Patapsco Valley Park
Frederick
- Bladensburg Waterfront Park
- Lake Artemesia
- Piscataway Park
Germantown
- Seneca Creek State Park
- Little Seneca Lake
- Monocacy River
Leonardtown
- Saint Marys Lake
Salisbury
- Johnsons Pond
- Leonards Mill Park
Westminster
- Landon C. Burns Park
- Liberty Reservoir
- Patapsco River Fishing
- Piney Run Reservoir
- Westminster Comm. Pond
White Plains
- Gilbert Run Park
Kids fishing photos, by state.
Post MD, kids fishing pictures.
If you have photos of proud kids and their prized fish they caught in Maryland, please submit them for posting here.
Youth fishing pictures in Maryland.