Michigan Kids Fishing Photos
Youth, fish and smiles in MI.
There is nothing better than the smile on a kid while they are holding up their prize catch. We encourage you to take a kid fishing in Michigan. Take a picture of their catch and let us post it here. They don't have to be trophy fish, trophy smiles are what it's all about.
Youngsters with their prized catch
---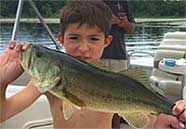 Joey Colucci, now age 8, displays his latest catch of a 17" bass he caught on an artificial worm. This nice Michigan bass came form Lake Cora in Paw Paw, MI.
---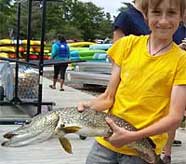 Ivan Vershynin, age 12, caught this really nice northern pike (27.5 inches long) on a jitterbug in the Huron River.
---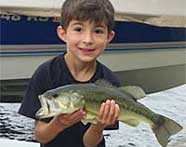 Joseph Colucci, proudly shows off the bass he caught while fishing at Lake Cora in Paw Paw, MI. This largemouth bass was 20" long and weighed 5 lb. Joey caught it with an artificial worm.
---
---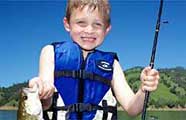 This could be your child, grandchild or any kid you took fishing. Take a picture and send it to us. We will happily post it here for them.
---
Take a kid fishing and bring your camera! These are a few of the places to take them fishing and get some great pictures.
Ann Arbor
- Ford Lake Park
Battle Creek
- Battle Creek Linear Park
Bay City
- Bay City Rec Area
Benton Harbor
- Carronde Park
- Galien Fishing Platform
Brevort
- Brevoort Lake
Cheboygan
- Mackinaw City Pier
Detroit
- Elizabeth Park
- Hines Park
- Lake Erie Metropark
- Tri-Centennial St Park
Grand Rapids
- Riverside Park
Harbor Springs
- Bear River Pier
- Petoskey East Side Pier
Michigamme
- Lake Michigamme
Midland
- Emerson Park
- Stratford Woods Park
Newaygo
- Ed H. Henning County Park
Traverse City
- Traverse City Public Park
- Traverse City State Park
Waterford
- Bald Mountain Rec Area
- Cass Lake
Kids fishing photos, by state.
Post MI, kids fishing pictures.
If you have photos of proud kids and their prized fish they caught in Michigan, please submit them for posting here.
Youth fishing pictures in Michigan.