Minnesota Kids Fishing Photos
Youth, fish and smiles in MN.
There is nothing better than the smile on a kid while they are holding up their prize catch. We encourage you to take a kid fishing in Minnesota. Take a picture of their catch and let us post it here. They don't have to be trophy fish, trophy smiles are what it's all about.
Youngsters with their prized catch
Dana Larson of Nevis, Minnesota with her late season bass caught (and released) on Belle Taine Lake.
---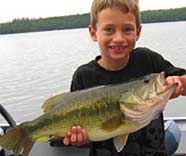 Big bass = big smiles
Isaac Kern caught this six pound largemouth bass the morning of August 3 on Crow Wing Lake in Minnesota. The fish measured 22 inches in length. He caught his monster on a kids Shamu rod with a floating frog.
---
This could be your child, grandchild or any kid you took fishing. Take a picture and send it to us. We will happily post it here for them.
---
Take a kid fishing and bring your camera! These are a few of the places to take them fishing and get some great pictures.
Andover
- Club West Pond
- Golden Lake
- Ham Lake
- Moore Lake
- Spring Lake
Eden Prarie
- Ann Lake in Carver
- Courthouse Lake
- Eagle Lake
- Firemans Pond
- Lake Auburn
- Maria Lake
- Piersons Lake
- Swede Lake
Farmington
- City Hall Pond
- LeMay Lake
- Marthaler Lake
- Prairie Ponds
- Rogers Lake
- Sunset Pond
- Thompson Lake
- Wood Park Lake
Minneapolis
- Bryant Lake
- Cedar Lake
- Hiawatha Lake Park
- Lake Calhoun
- Lake of the Isles
- Lake Rebecca
- Powderhorn Lake
- Red Rock Lake Park
- Smetana Lake Park
- Staring Lake Park
- Taft Lake
- Wolfe Lake
- Youth Fishing Pond
Mora
- Ann Lake
St Paul
- Bennett Lake
- Como Lake
- Crosby Lake
- Lake Phalen
- Marydale Park
- Hidden Falls Park
Kids fishing photos, by state.
Post MN, kids fishing pictures.
If you have photos of proud kids and their prized fish they caught in Minnesota, please submit them for posting here.
Youth fishing pictures in Minnesota.