Missouri Fishing Article
Knowing when to move off a winning spot.
It was late July at around 5:30 in the morning as Bob and I were making our first casts for lunker bass. It was quiet and beautiful as the sun was still an hour from making its debut on the glassy waters of Bull Shoals Lake. Located on the south most border of Missouri, Bull Shoals is a beautifully clear Corps of Engineers' lake fed by the White River and home to trophy bass, walleye and crappie. Bull Shoals is in the heart of the Ozarks with long points, gravel shores and beautiful bluffs. With the exception of a handful of boat docks and marinas, there is no construction allowed on the lake giving it a beautifully pristine appearance. Bull Shoals while being one of Missouri's most beautiful lakes is also one of its toughest lakes to fish in July both because of the water's extremely clarity and its 85 degree water.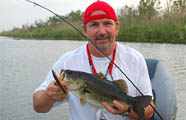 The boat was positioned in about 30 feet of water as my buddy Bob on the trolling motor had been "walking the dog" on a 4 inch top water stick bait and I was working a Texas rigged 6 inch plastic worm down a bluff end from the back of the boat. We had been moving down the bank slowly working our lures for about forty minutes with no luck when suddenly the water erupted on Bob's top water bait. There are few events in fishing that compare to watching the hard strike of a 4 pound bass as it sucks in a top water lure and this time was no exception. Bob (the ever patient deer hunter) waited for a moment and then set the hook, bending the rod into a hard J. As the lunker ran deep you could see the line cut in an arc across the surface and hear the stretch of the monofilament as the big fish ran. After what seemed like an eternity, the bass erupted from the water and launched into the air like some kind of rocket spinning and shaking. It was during this moment of time while the fish was performing its aerial acrobatics that Bob's line went momentarily limp and the fish shook free from the lure. Another nice bass just got away.
Now, anyone can lose a fish and while it is disheartening to lose a lunker, we all know it is part of the entire fishing experience. Bob shook his head and mouthed some words I didn't catch and I laughed but then Bob did something that made me wonder if Bob was fishing or deer hunting. Bob adjusted the trolling motor and started zooming down the bank to look for a new place to fish. I couldn't believe it. We finally get a fish to bite and now Bob wants to look for a new place to fish. What I finally figured out after a little discussion was that Bob wanted to move to a "new hunting ground". He was treating the Large Mouth Bass like a white tail deer. He was concerned that the caught fish had disrupted the water and scared the other fish away. Bob was mixing deer hunting and bass fishing and he could not be more wrong.
One of the principal goals of a fisherman is to find the fish. As an avid SCUBA diver and fisherman, I have spent many hours watching bass both underwater and above. A bass that is hooked and struggling is often times like a magnet to other fish. Bass are opportunistic hunters. They are attracted by a number of stimuli and in particularly the struggling fish. While scuba diving in Arkansas, when I spear a catfish it is amazing the number of fish that show up to take part in the fight. Get a smallmouth bass on the line and often time a second or third smallie will show up to get in on the action. Moving off a fishing spot because a fish has just been caught can be a real mistake.
Where you find one bass you typically find more. As far as distribution is concerned, it is clear that bass school. This schooling may be due to water quality and temperature, presence of baitfish, or bottom conditions. On a number of occasions I will dive across a bank at a depth of 25 feet and not see a bass, bluegill or minnow for 50 yards and then suddenly, with no observable change in the bottom conditions, see baitfish and bass galore for 10 yards and then 50 more yards of nothing. In the book The science of bass fishing, Dr. Keith Jones's talks of how that bass never distribute themselves uniformly but instead cluster in groups. Catching a good bass may well be the surest indicator, for one reason or another, to the presence of a school of fish.
Bob's idea that you can "spook the fish" is not altogether wrong. Bass will learn to avoid certain baits or lures. Again referring to Dr. Keith Jones's research into fish behavior, it has been shown that a single bass will remember a particular lure for up to three months. It may be necessary to change the presentation or bait and change things up and attract the bass. Moving to a critter bait (like a plastic twin tail grub or lizard) if the fish was originally hooked on a crank bait will often stimulate a strike. Try slowing the retrieval speed or dropping the bait to a lower area of the water will give the fish a new presentation.
Attempting to land a big bass that was recently hooked may or may not be fruitful. Sometimes the caught fish is stressed from the fight and will be reluctant to engage any lure. On the other hand, I have experienced a number of occasions when the fish will hit the lure, shake loose and then require the same lure. The bottom line is that half the battle in fishing is finding the schools of bass. Once you hook a bass and determine that you are on fish, stick with the location until the site shuts down. As you fish you can stay productive by altering your presentation until the fishing shut down completely. Remember, if you have had some action, change your lure before you change your location.
Thanks and keep fishing,
Howard Wright
Fishing photos and articles, by state.
Contribute MO fishing photos and articles
If you have information, articles or photos relating to fishing in Missouri, and would like to see them published here, please submit them for consideration.
Article about fishing for bass on Bull Shoals Lake in MO