Missouri Kids Fishing Photos
Youth, fish and smiles in MO.
There is nothing better than the smile on a kid while they are holding up their prize catch. We encourage you to take a kid fishing in Missouri. Take a picture of their catch and let us post it here. They don't have to be trophy fish, trophy smiles are what it's all about.
Youngsters with their prized catch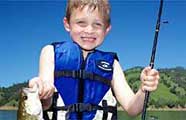 This could be your child, grandchild or any kid you took fishing. Take the kids fishing at Bull Shoals Lake, Harry S. Truman Reservoir, Lake of The Ozarks, Mark Twain Lake, Pomme de Terre Lake, Smithville Reservoir, Stockton Lake, Table Rock Lake, Thomas Hill Reservoir, Wappapello Lake, or any of the urban fishing waters listed below. Take a picture and send it to us. We will happily post it here for them.
---
Take a kid fishing and bring your camera! These are a few of the places to take them fishing and get some great pictures.
Branson
- Table Rock State Park
Clifton Hill
- Thomas Hill Reservoir
Kansas City
- Alex George Park
- Chaumiere Park
- Fleming Park
- Lake of the Woods
- Penn Valley Park
- Swope Park
Saint Louis
- Bee Tree Park
- Benton Park
- Carondelet Park
- Creve Coeur Park
- Fairground Park
- Forest Park
- Hyde Park
- Lafayette Park
- New Ballwin Park
- Queeny Park
- Spanish Lake Park
- Suson Park
- Tilles Park
Kids fishing photos, by state.
Post MO, kids fishing pictures.
If you have photos of proud kids and their prized fish they caught in Missouri, please submit them for posting here.
Youth fishing pictures in Missouri.