New Hampshire Fishing Photos & Articles
Share your successes and fishing knowledge with our visitors. Our readers would like to know where and how you caught your trophy fish.
Learn the tips, trick and secrets to successful fishing in New Hampshire for largemouth bass, smallmouth bass, white catfish, black crappie, white crappie, walleye, rainbow trout, brook trout, brown trout, lake trout, bluegill, pumpkinseed sunfish, rock bass, white perch, yellow perch, Atlantic salmon, coho salmon, stripers, bowfin, chain pickerel, northern pike and tiger muskie. See fishing photos from around the Granite State. Share some of your insights to NH fishing with your articles and photos.
New Hampshire Fishing Photos
AA-Fishing has a dedicated page for kids fishing pictures. All other fishing photos will be posted here. If you wish to post photos, please submit them for consideration.
---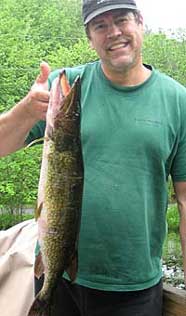 Bass fishing turns Pickerel
It's amazing when, just as your lure hits the water and just after closing your bail, your rod almost gets pulled out of your hand and the line just starts zipping out of your reel.
I was fishing Lake Conway, in Conway New Hampshire on the first week of June 2006, for large and smallmouth Bass. It was Sunday Morning around 9:00am when this monster Pickerel slammed my line. I was fishing for bass, but as usual the Pickerel steel your bait and hook several times a trip. This one ended up with the hook stuck in the corner of his mouth. No matter how hard he tried, he couldn't bite thru the line. This fish went a long way to proving to my friends that not all of my fish stories are made up. I was using 12lb test, with a 5" Senko on a round #1 "Octopus" hook. The Pickerel measured 6lbs even and it was 28.5" long.
---
New Hampshire Fishing Articles
Fishing The Contoocook River
By Jim Robinson
There are unique stories to be told about fishing in New Hampshire. Whether you are a professional writer, or an angler with a story to share we will gladly consider your article for publication here.
Local fishing articles and photos, listed by state
Post New Hampshire fishing photos and articles.