New Hampshire Camping & Fishing
Campgrounds near fishing lakes in New Hampshire.
NH Campgrounds
New Hampshire offers a variety of places to camp. Whether you like to camp in a tent, set up a camping trailer or camp in the comfort of a motorhome or RV, New Hampshire has a multitude of camping opportunities for everyone. There are places to camp near most New Hampshire cities like Colebrook, Lancaster, Gorman, Milan, Claremont, Keene, Nashua, Manchester, Concord, Meredith and many others.
Enhance your fishing trip by camping nearby your favorite fishing lakes and rivers. Use the New Hampshire map to identify potential fishing waters and nearby camping opportunities.
Additional campground information
For additional information on planning your trip visit the National Forest Service outdoor and camping tips.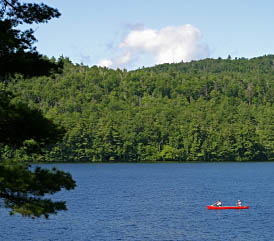 Area attractions, New Hampshire State Parks and national parks combine to expand your options for camping in places like Lake Francis State Park & Campground, Crawford Notch State Park & Dry River Campground , Saint-Gaudens National Historic Site, Bear Brook State Park & Campground, Milan Hill State Park & Campground, Moose Brook State Park & Campground, Umbagog Lake Campground, Coleman State Park & Campground , White Lake State Park & Campground, Pillsbury State Park, Pawtuckaway State Park & Campground, Mollidgewock State Park & Campground and others offer additional camping venues.
There is camping nearby lakes in New Hampshire as well including First Connecticut Lake, Moore Reservoir, Lake Wentworth, Umbagog Lake, Nubanusit Lake, Spofford Lake, Lake Winnipesaukee, Winnisquam Lake, Newfound Lake and Squam Lake. Visit the All Awesome Camping website for additional information on camping in New Hampshire. The site includes a section for locating campgrounds in New Hampshire, RV and motorhome dealers, tents, camping gear, accessories and more much for all your NH camping needs.
Camping and fishing
There are great places to go camping throughout the Granite State. Look here for tips on campgrounds and campsites preferred by NH anglers. Experience the outdoors in New Hampshire.
Camping information, by state.
Contribute NH camping information.
If you have information, articles or photos relating to camping in New Hampshire, please submit them for consideration.
Camping in New Hampshire.