New Hampshire Kids Fishing Photos
Youth, fish and smiles in NH.
There is nothing better than the smile on a kid while they are holding up their prize catch. We encourage you to take a kid fishing in New Hampshire. Take a picture of their catch and let us post it here. They don't have to be trophy fish, trophy smiles are what it's all about.
Youngsters with their prized catch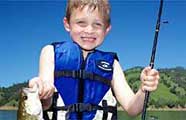 This could be your child, grandchild or any kid you took fishing. Take a picture and send it to us. We will happily post it here for them.
---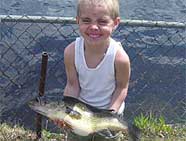 Dominic Coleman shows off a nice five lb bass he caught all by himself. Not too bad for a four-year old!
Nice job Dominic!
Kids fishing holes in New Hampshire
Concord
- Merrimack River
- Turtletown Pond
Manchester
- Livingston Park
- Merrimack River
- Piscataquog River Park
- Precourt Park
- Stevens Pond Park
Monroe
- Comerford Lake
Portsmouth
- Massabesic Lake
Silver Lake
- Silver Lake
Kids fishing photos, by state.
Post NH, kids fishing pictures.
If you have photos of proud kids and their prized fish they caught in New Hampshire, please submit them for posting here.
Youth fishing pictures in New Hampshire.