New Mexico Kids Fishing Photos
Youth, fish and smiles in NM.
There is nothing better than the smile on a kid while they are holding up their prize catch. We encourage you to take a kid fishing in New Mexico. Take a picture of their catch and let us post it here. They don't have to be trophy fish, trophy smiles are what it's all about.
Youngsters with their prized catch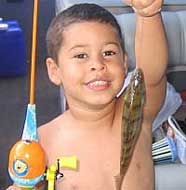 Kids First Fish Ever
Teaching my new Step Children to fish by Eric and Iris. Xavier and Robert caught their first fish ever at Navajo Lake in Northwest New Mexico, It was the Highlight of their young life's. These days we get asked when we're going fishing again every week of the year. Its a wonderful thing to teach a child to fish, or should I say to catch.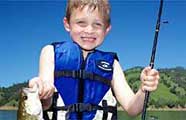 This could be your child, grandchild or any kid you took fishing. Take a picture and send it to us. We will happily post it here for them.
---
Take a kid fishing and bring your camera! These are a few of the places to take them fishing and get some great pictures.
Consider these small lakes, ponds, creeks and urban fishing locations as places to take a kid fishing in New Mexico.
Eagle Nest
- Eagle Nest Lake
Sandia
- Sandia Lakes Rec Area
- Tingley Beach
Roswell
- Bottomless Lakes St Park
- Spring River Park
Carlsbad
- Avalon Reservoir
- Brantley Lake State Park
- Lake Carlsbad Beach Park
- Riverview Park
Los Alamos
- Cochiti Recreation Area
- Tetilla Peak Rec Area
Truth Or Consequences
- Caballo Lake State Park
- Elephant Butte Lake St Park
Kids fishing photos, by state.
Post NM, kids fishing pictures.
If you have photos of proud kids and their prized fish they caught in New Mexico, please submit them for posting here.
Youth fishing pictures in New Mexico.