Nevada Kids Fishing Photos
Youth, fish and smiles in NV.
There is nothing better than the smile on a kid while they are holding up their prize catch. We encourage you to take a kid fishing in Nevada. Take a picture of their catch and let us post it here. They don't have to be trophy fish, trophy smiles are what it's all about.
Youngsters with their prized catch
---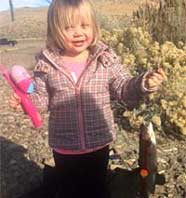 Vivienne Filippe, age 3, with her rainbow trout.
She caught this nice rainbow trout on her very own Barbie fishing pole, using a worm. She was fishing Thacker Pass Pond in northwest Nevada, nearby Orovada.
---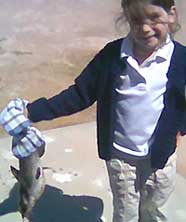 Sydney Pravato and her catfish
She caught this catfish at sunset in Las Vegas Nevada March 15, 2006. She caught it on a chunk of dough and reeled it in by herself. But she was still not happy, now she wants to catch a shark.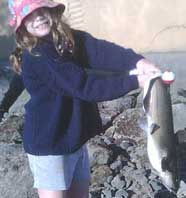 Well, no shark yet for Sydney but she caught an even bigger catfish in November of 2008. About 8 pounds.
---
Take a kid fishing and bring your camera! These are a few of the places to take them fishing and get some great pictures.
Carson City
- Carson River Park
- Ross Gold Park
Boulder
- Boulder City Urban Pond
- Floyd Lamb State Park
- Lorenzi Park Pond
- Sunset Park Pond
Carson City
- Carson River Park
- Ross Gold Park
Las Vegas
- Floyd Lamb Park
Reno
- Lake Park
- Little Washoe Lake
- Paradise Park Ponds
- Teglia's Paradise Park
- Virginia Lake
Wellington
- Topaz Lake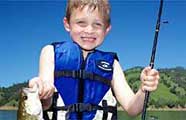 This could be your child, grandchild or any kid you took fishing. Take a picture and send it to us. We will happily post it here for them.
---
Kids fishing photos, by state.
Post NV, kids fishing pictures.
If you have photos of proud kids and their prized fish they caught in Nevada, please submit them for posting here.
Youth fishing pictures in Nevada.