New York Fishing Photos & Articles
Share your successes and fishing knowledge with our visitors. Our readers would like to know where and how you caught your trophy fish.
Learn the tips, trick and secrets to successful fishing in New York for largemouth bass, smallmouth bass, channel catfish, white catfish, black crappie, white crappie, walleye, rainbow trout, brook trout, brown trout, lake trout, bluegill, pumpkinseed sunfish, rock bass, white bass, white perch, yellow perch, Atlantic salmon, coho salmon, stripers, bowfin, chain pickerel, longnose gar, muskie, northern pike and tiger muskie. See fishing photos from around the Empire State. Share some of your insights to NY fishing with your articles and photos.
New York Fishing Photos
AA-Fishing has a dedicated page for kids fishing pictures. All other fishing photos will be posted here. If you wish to post photos, please submit them for consideration.
---
SFC Kevin Williams and MAJ Douglas Baker are members of the New York Army National Guard.
\While stationed in Iraq they decided to go fishing in the many lakes that saddam had built around his palaces. These pictures show the common carp Common Carp (Cyprinus carpio) and the asp (Aspius vorax) are found in abundance in the lakes and canals in what is now known as Camp Victory Base Complex near the Baghdad International Airport.
---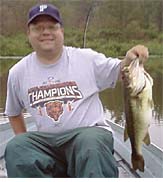 David Zikoski with an 8 pound 11 ounces, 25 inch long largemouth bass caught on a popper at Lake Superior State Park.
---
New York Fishing Articles
It's Salmon Time
By Shane Thomas
Steelhead Fishing Lake Ontario Tributaries
By Shane Thomas
Just Another Perfect Day on Lake Ontario
By David Turner
There are unique stories to be told about fishing in New York. Whether you are a professional writer, or an angler with a story to share we will gladly consider your article for publication here.
Local fishing articles and photos, listed by state
Post New York fishing photos and articles.