New York Kids Fishing Photos
Youth, fish and smiles in NY.
There is nothing better than the smile on a kid while they are holding up their prize catch. We encourage you to take a kid fishing in New York. Take a picture of their catch and let us post it here. They don't have to be trophy fish, trophy smiles are what it's all about.
This could be your child, grandchild or any kid you took fishing. Take a picture and send it to us. We will happily post it here for them.
---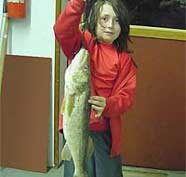 Jeremiah Austin, age 9 with his 6lb walleye caught at the Portlandville Bridge in Otsego County New York.
---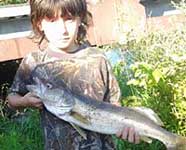 Jeremiah Austin with a nice, 24" walleye he caught in the Susquehanna River, Otsego Co., New York.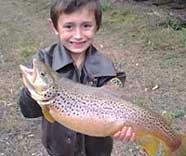 Jeremiah Austin age 8 caught this 8.5 pound 24 inch brown trout the first time trout fishing in the Schenevus Creek in Otsego county New York.
---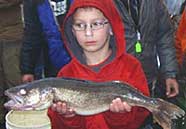 Jason Drozdowski, age 6 shows off this 22" walleye he landed all by himself in a walleye derby at Cuba Lake.
---
Take a kid fishing and bring your camera! These are a few of the places to take them fishing and get some great pictures.
Albany
- Buckingham Lake Park
- Rensselaer Lake
- Thompson's Lake State Park
- Washington Park
Blue Mountain Lake
- Blue Mountain Lake
Bronx
- Crotona Park Pond
- Hunts Point Riverside Park
- Pelham Bay Park
- Van Cortlandt Lake
Buffalo
- Beaver Island State Park
- Hoyt Lake
Hempstead
- Camaans Pond
- Forest City Park Pond
- Freeport Reservoir
- Grant Park Pond
- Hempstead Lake St Park
- Lower Twin Pond
- Mullener Pond
- Smith Pond
- Upper Twin Pond
- Wantagh Mill Pond
Long Island
- Artist Lake
- Avon Manor Pond
- Beaverdam Creek
- Big Reed Pond
- Canaan Lake
- Forge Pond
- Fresh Pond
- Hither Hills State Park
- Hook Pond
- Lake Ronkonkoma
- Lower Yaphank Lake
- Marratooka Pond
- Millers Pond
- Otis Pike Ponds
- Swan River
- Upper Mills Pond
- Upper Yaphank Lake
- Watermill Pond
- West Lake
New York
- Baisley Pond
- Central Park Ponds
- Bayswater Point State Park
- Kissena Lake
- Meadow Lake
- Oakland Lake
- Willow Lake
Niagra Falls
- Hyde Park
- Niagara River
Piseco
- Piseco Lake
Rochester
- Cobbs Hill Park
- Durand Eastman Park
- Ontario Beach Park
- Seneca Park
- Turning Point Park
Staten Island
- Clove Lakes Park
- Great Kills Park
- Martling Lake
- Silver Lake Reservoir
- Wolfe's Pond Park
Warsaw
- Silver Lake State Park
Kids fishing photos, by state.
Post NY, kids fishing pictures.
If you have photos of proud kids and their prized fish they caught in New York, please submit them for posting here.
Youth fishing pictures in New York.