Ohio Kids Fishing Photos
Youth, fish and smiles in OH.
There is nothing better than the smile on a kid while they are holding up their prize catch. We encourage you to take a kid fishing in Ohio. Take a picture of their catch and let us post it here. They don't have to be trophy fish, trophy smiles are what it's all about.
Youngsters with their prized catch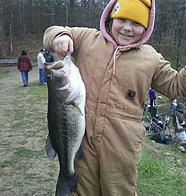 9 years old Brylee Haupt shows off a nice, 25" long bass caught at Rose Lake in Hocking Hills State Park.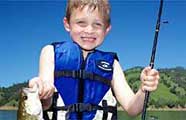 This could be your child, grandchild or any kid you took fishing. Take a picture and send it to us. We will happily post it here for them.
---
Take a kid fishing and bring your camera!
Consider these small lakes, ponds, creeks and urban fishing locations as places to take a kid fishing in Ohio.
Cleveland
- Bunns Lake
- Oxbow Lagoon
- Ranger Lake
- Shadow Lake
- Wallace Lake
Delaware
- Griggs Reservoir Park
- O'Shaughnessy Reservoir
Dellroy
- Atwood Lake
Columbus
- Antrim Park
- Griggs Reservoir Park
- Schiller Park
- Three Creeks Metro Park
Cincinnati
- River Hill Pond, Miami Whitewater Forest
- Sharon Woods Lake
- Triple Creek Park
- Winton Woods Park
Mifflin
- Charles Mill Lake
Kids fishing photos, by state.
Post OH, kids fishing pictures.
If you have photos of proud kids and their prized fish they caught in Ohio, please submit them for posting here.
Youth fishing pictures in Ohio.