Oklahoma Kids Fishing Photos
Youth, fish and smiles in OK.
There is nothing better than the smile on a kid while they are holding up their prize catch. We encourage you to take a kid fishing in Oklahoma. Take a picture of their catch and let us post it here. They don't have to be trophy fish, trophy smiles are what it's all about.
Youngsters with their prized catch
---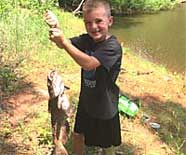 Zayne with a nice catfish...
6 year old Zayne Burke caught this catfish caught with a worm from a small pond near Blanchard Oklahoma. This was Zayne's first ever catfish!
---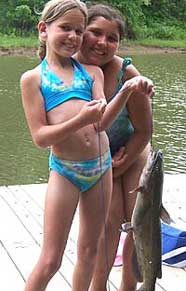 Shelby's Catfish...
9 year old Shelby Collins and her best friend Jordan after Shelby caught her first catfish in Catoosa
---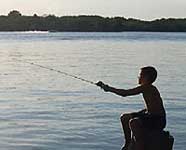 Shelb'ys 11 year old brother Gage relaxing while fishing at Ft. Gibson.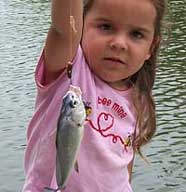 Jayla' Fish...
3 year old Jayla Lucas catching her monster drum in Catoosa, Oklahoma.
---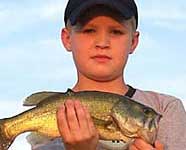 Cameron's Bass...
Cameron Mosteller age 9 with his biggest fish yet, caught on one of his almost daily fishing outings in front of OG&E in Muskogee.
---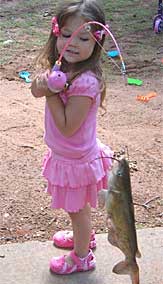 3 year old Christina Kaye Wornick shows off her very first catfish.
---
Take a kid fishing and bring your camera! These are a few of the places to take them fishing and get some great pictures.
Consider these small lakes, ponds, creeks and urban fishing locations as places to take a kid fishing in Oklahoma.
Norman
- Stanley Draper Lake
- Sutton Wilderness Pond
Oklahoma City
- Dolese Youth Park Pond
- Eagle Lake
- Edwards Park Fishing Lake
- Hefner Lake
- Kids Lake at Wilshire
- Kids Lake on Grand Blvd
- Lake Overholser
- Mohawk Park
- South Lakes Park Ponds
Stillwater
- Lake Carl Blackwell
Tulsa
- Sand Springs Lake
- Yahola Lake
Kids fishing photos, by state.
Post OK, kids fishing pictures.
If you have photos of proud kids and their prized fish they caught in Oklahoma, please submit them for posting here.
Youth fishing pictures in Oklahoma.