Pennsylvania Kids Fishing Photos
Youth, fish and smiles in PA.
There is nothing better than the smile on a kid while they are holding up their prize catch. We encourage you to take a kid fishing in Pennsylvania. Take a picture of their catch and let us post it here. They don't have to be trophy fish, trophy smiles are what it's all about.
Youngsters with their prized catch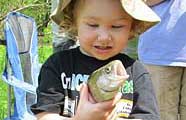 Ainsley Baird - age 3 of Robinson, Pennsylvania with her first fish.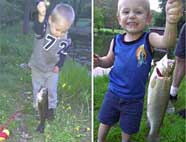 Two-year old
Colin Boyer
shows off his first bass and his first trout!
---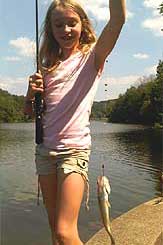 Lauren Pelkofer with her first fish.
---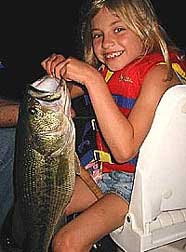 Elizabeth Knoll, eight years old caught this 5 lbs 8 oz bass while fishing with her buddy and Grandfather "Gramps" on Boulder Lake, PA. The bait and technique is a sworn secrete between her and Gramps. It was released to fight another day.
---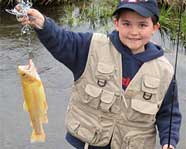 Jon Michael Williams, age 7, shows off one of 3 palomino (or golden) trout he has landed in his short fishing career.
---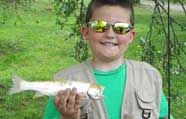 Jon Michael Williams, now age 8, with another nice fish.
---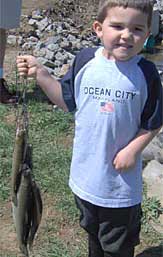 Five-year old John Michael Williams with a nice stringer of trout. Thanks to his dad John for taking him fishing. Many thanks to Pennsylvania for creating a beautiful fishing spot for children and the handicapped at Deer Creek in Pulsaki Township.
---
Take a kid fishing and bring your camera! These are a few of the places to take them fishing and get some great pictures.
Edgemont
- Ridley Creek State Park
Erie
- Chautauqua Park
- Fairview Gravel Pits
- Four Mile Creek
- Holland Street Pier
- Lawrence Park
- Presque Isle State Park
- West Canal Basin
Lackawanna
- Fords Lake
- Lackawanna State Park
Lancaster
- Conewago Creek
- Speedwell Forge Lake
Meadville
- Tamarack Lake
Mt Pleasant
- Blue Marsh Lake
Savage
- High Point Reservoir
Scranton
- Frances Slocum State Park
- Harvey's Lake
- Susquehanna River
Philadelphia
- Fairmount Park
- Fairmont Park
Kids fishing photos, by state.
Post PA, kids fishing pictures.
If you have photos of proud kids and their prized fish they caught in Pennsylvania, please submit them for posting here.
Youth fishing pictures in Pennsylvania.