Rhode Island Kids Fishing Photos
Youth, fish and smiles in RI.
There is nothing better than the smile on a kid while they are holding up their prize catch. We encourage you to take a kid fishing in Rhode Island. Take a picture of their catch and let us post it here. They don't have to be trophy fish, trophy smiles are what it's all about.
Youngsters with their prized catch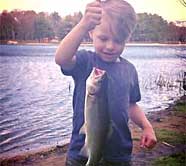 Jacob Swider, of Woonsocket, RI, age 5 caught and released his first rainbow trout.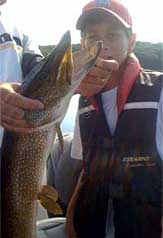 Kyle Barbato age 11 from Warwick, on his first trip to Wordens Pond caught this 28 inch, 9.8 lbs monster on a yum yum rubber shiner.
---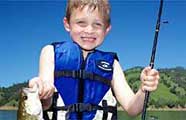 This could be your child, grandchild or any kid you took fishing. Take a picture and send it to us. We will happily post it here for them.
---
Take a kid fishing and bring your camera! These are a few of the places to take them fishing and get some great pictures.
Consider these small lakes, ponds, creeks and urban fishing locations as places to take a kid fishing in Rhode Island.
Bristol
- Colt State Park
- Warren Town Beach
East Greenwich
- Potowomut Pond
Newport-Middletown
- Beavertail State Park
- Brenton Point State Park
- Easton's Beach in Newport
- Fort Adams State Park
- Fort Wetherill State Park
Providence
- Blackstone Park
- Conmicut Point Beach
- Geneva Brook and Pond
- Haines Memorial State Park
- Mashapaug Pond
- Sabin Point Park
- Seidel's Pond
- Slater Park Pond
Spring Lake
- Tiogue Lake
Warwick
- Warwick City Park
West Greenwich
- Gorton's Pond
Kids fishing photos, by state.
Post RI, kids fishing pictures.
If you have photos of proud kids and their prized fish they caught in Rhode Island, please submit them for posting here.
Youth fishing pictures in Rhode Island.