South Carolina Fishing Photos & Articles
Share your successes and fishing knowledge with our visitors. Our readers would like to know where and how you caught your trophy fish.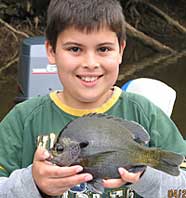 Nic Kmett and his father, Mark had a wonderful day fishing the Savannah River. They launched at Stokes Bluff Landing in South Carolina and went up river to a large 'oxbow' lake. The Blue Gill and other brim types were really biting that day. We brought home 18 fish, released a dozen others that on another day would have been keepers, all in about 4 hours. Many of the keeper Blue Gills were nearly 10 inches in length, and very plump.
---
South Carolina Fishing Articles
Palmetto State Fishing
by Brian Cope
Fishing Piers in South Carolina - USA Today
By Trent Jonas, Demand Media
Learn the tips, trick and secrets to successful fishing in South Carolina for largemouth bass, smallmouth bass, spotted bass, redeye bass, channel catfish, flathead catfish, blue catfish, white catfish, black crappie, white crappie, walleye, rainbow trout, brook trout, brown trout, bluegill, flier sunfish, pumpkinseed sunfish, redbreast sunfish, redear sunfish, warmouth, white bass, white perch, yellow perch, stripers, bowfin, chain pickerel, muskie and sauger. See fishing photos from around the Palmetto State. Share some of your insights to SC fishing with your articles and photos.
South Carolina Fishing Photos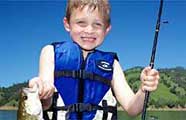 AA-Fishing has a dedicated page for kids fishing pictures. All other fishing photos will be posted here. If you wish to post photos, please submit them for consideration.
---
There are unique stories to be told about fishing in South Carolina. Whether you are a professional writer, or an angler with a story to share we will gladly consider your article for publication here.
Local fishing articles and photos, listed by state
Post South Carolina fishing photos and articles.