South Carolina Kids Fishing Photos
Youth, fish and smiles in SC.
There is nothing better than the smile on a kid while they are holding up their prize catch. We encourage you to take a kid fishing in South Carolina. Take a picture of their catch and let us post it here. They don't have to be trophy fish, trophy smiles are what it's all about.
Youngsters with their prized catch
Big cats bring big smiles...9 year old catches fish that weighs almost as much as he does. Cody Long caught this 32 lb Yellow Cat off the dock in Lake Hartwell. Father Scot has to hold it up for pictures. Great fish Cody!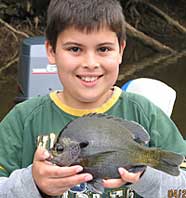 Fathers, sons and Bluegills...Nic Kmett and his father, Mark had a wonderful day fishing the Savannah River. They launched at Stokes Bluff Landing in South Carolina and went up river to a large 'oxbow' lake. The Blue Gill and other brim types were really biting that day. We brought home 18 fish, released a dozen others that on another day would have been keepers, all in about 4 hours. Many of the keeper Blue Gills were nearly 10 inches in length, and very plump.
Very nice bluegills, good job Nic!
---
Little Kids - Big Brim - Big Smiles
By Richard Lee
My wife, Jean, and I teach the Single Parent Bible Fellowship Class at Rock Springs Baptist Church in Easley SC. For three years now we have taken the kids and adults fishing at Harold Wilson's pond. This is a 1.5 acre pond which he installed for irrigating his nursery. Being an avid fisherman, he has nurtured this pond to the point that 1.5 to 2 lb. brim are the norm. Please imagine an 8 year boy who had never caught a fish hauling a 2 lb. brim on light weight gear and saying repeatedly "come to daddy, come to daddy'. Our desire is to see kids get hooked on fishing rather than all the other things this world has to offer.
---
Take a kid fishing and bring your camera! These are a few of the places to take them fishing and get some great pictures.
Consider these small lakes, ponds, creeks and urban fishing locations as places to take a kid fishing in South Carolina.
Bennettsville
- Lake Wallace Fishing Piers
Charleston
- Brittle Bank Park
- James Island County Park
- Remleys Point
- Waterfront Park
Columbia
- Granby Park
- Saluda Shoals Park
- Three Rivers Greenway
Hampton
- Lake Warren State Park
Madison
- Lake Madison
Monticello
- Monticello Reservoir
Kids fishing photos, by state.
Post SC, kids fishing pictures.
If you have photos of proud kids and their prized fish they caught in South Carolina, please submit them for posting here.
Youth fishing pictures in South Carolina.