South Dakota Fishing Article
If There is Water it Has Fish
South Dakota's Black Hills are often over looked by fisherman for the some of the more exotic destinations through out the eleven western states. Making the blue ribbon waters of South Dakota's Black Hills one of the best kept Trout fishing secrets in the world . Since other area attractions like Mount Rushmore, Deadwood, the Sturgis Motorcycle Rally, the Badlands National Park, Custer State Park, and its herds of buffalo just to name a few. By far over shadows what is hidden beneath the placid surfaces of the Black Hills lakes, and within the crystalline waters of its streams often so small you can step across them are trophy trout.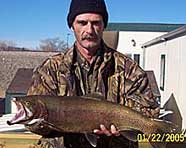 Monstrous five pound plus Rainbow and Brown Trout that can provide that once in a lifetime catch for any novice fisherman with standard tackle. While still stretching the skills of even the most ardent dyed wool fly fisherman to their limits.
So on your next trip to the Black Hills bring your pole since chances are if there is water it has fish.
Fishing photos and articles, by state.
Contribute SD fishing photos and articles
If you have information, articles or photos relating to fishing in South Dakota, and would like to see them published here, please submit them for consideration.
Article about fishing for trout in South Dakota.