Tennessee Fishing Photos & Articles
Share your successes and fishing knowledge with our visitors. Our readers would like to know where and how you caught your trophy fish.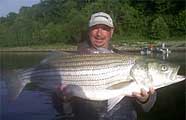 Mike Stapleton with a real nice 34-pound striper caught below old hickory dam on a 2 oz white jig with purple fluke jerk bait. His fishing buddy Jeff Houchins manned the boat and net.
---
Tennessee Fishing Articles
Spring Stream Bass Tactics
By Mike Dial
Fishing Covered Docks
By Rick Mcferrin
Take The Time To Take Kids Fishing
By JC Crawford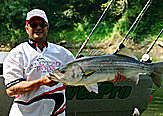 Capt Don Schleicher caught and released this striper on August 25th, 2005 Middle Tennessee (Cumberland River).
Learn the tips, trick and secrets to successful fishing in Tennessee for largemouth bass, smallmouth bass, spotted bass, redeye bass, channel catfish, flathead catfish, blue catfish, black crappie, white crappie, walleye, rainbow trout, cutthroat trout, brook trout, brown trout, lake trout, bluegill, flier sunfish, green sunfish, longear sunfish, pumpkinseed sunfish, redbreast sunfish, redear sunfish, rock bass, spotted sunfish, warmouth, white bass, yellow bass, yellow perch, stripers, bowfin, chain pickerel, longnose gar, muskie, northern pike, paddlefish, sauger, saugeye and spotted gar. See fishing photos from around the Volunteer State. Share some of your insights to TN fishing with your articles and photos.
Tennessee Fishing Photos
AA-Fishing has a dedicated page for kids fishing pictures. All other fishing photos will be posted here. If you wish to post photos, please submit them for consideration.
---
There are unique stories to be told about fishing in Tennessee. Whether you are a professional writer, or an angler with a story to share we will gladly consider your article for publication here.
Local fishing articles and photos, listed by state
Post Tennessee fishing photos and articles.