Tennessee Kids Fishing Photos
Youth, fish and smiles in TN.
There is nothing better than the smile on a kid while they are holding up their prize catch. We encourage you to take a kid fishing in Tennessee. Take a picture of their catch and let us post it here. They don't have to be trophy fish, trophy smiles are what it's all about.
Youngsters with their prized catch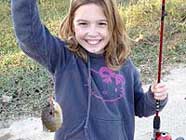 Brylie Cheshire, 10 years old, with her first ever fish caught in the Tennessee River.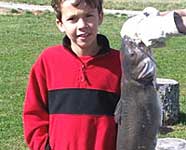 12-pound catfish caught by 10 year old Chase Williams at private residence in middle Tennessee.
---
Take a kid fishing and bring your camera! These are a few of the places to take them fishing and get some great pictures.
Bluff City
- Boone Lake
Chatanooga
- Booker T. Washington Park
- Harrison Bay State Park
- East Lake Park
- Ross's Landing Park
Memphis
- Lake McKellar
- Mud Island River Park
- Shelby Farms Park
Nashville
- J Percy Priest Lake
- Shelby Lake Park
Knox
- Caswell Park
- Fort Dickerson Park
- Fort Loudon Lake
- Fountain City Park
- Island Home Park
- Lakeshore Park
- Lonsdale Park
- Sequoyah Park
- Volunteer Landing Park
Pegram
- Cheatham Lake
Roan Mountain
- Roan Mountain State Park
Kids fishing photos, by state.
Post TN, kids fishing pictures.
If you have photos of proud kids and their prized fish they caught in Tennessee, please submit them for posting here.
Youth fishing pictures in Tennessee.