Utah Kids Fishing Photos
Youth, fish and smiles in UT.
There is nothing better than the smile on a kid while they are holding up their prize catch. We encourage you to take a kid fishing in Utah. Take a picture of their catch and let us post it here. They don't have to be trophy fish, trophy smiles are what it's all about.
Youngsters with their prized catch
---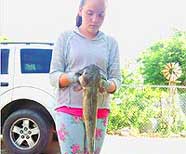 Jenniel Maldonado caught this nice catfish from the Bear River in Utah, using shrimp.
---
A day on the water fishing can create memories that will last a lifetime.
---
This could be your child, grandchild or any kid you took fishing. Take a picture and send it to us. We will happily post it here for them.
---
Take a kid fishing and bring your camera! These are a few of the places to take them fishing and get some great pictures.
Consider these small lakes, ponds, creeks and urban fishing locations as places to take a kid fishing in Utah.
Farmington
- Farmington Pond
Junction
- Piute Reservoir
Koosharem
- Fish Lake
Ogden
- Fort Buenaventura Park
- Ogden River Parkway
Provo
- Canyon View Park Pond
- Exchange Park
- Footprinter's Park
- Highland Glen Park
- Salem Pond
- Spring Lake
- Utah Lake State Park
- Willow Park
Salt Lake City
- Jordan River Parkway
- Midas Pond
- Riverside Park
- Willow Park Pond
Kids fishing photos, by state.
Post UT, kids fishing pictures.
If you have photos of proud kids and their prized fish they caught in Utah, please submit them for posting here.
Youth fishing pictures in Utah.