Virginia Kids Fishing Photos
Youth, fish and smiles in VA.
There is nothing better than the smile on a kid while they are holding up their prize catch. We encourage you to take a kid fishing in Virginia. Take a picture of their catch and let us post it here. They don't have to be trophy fish, trophy smiles are what it's all about.
Youngsters with their prized catch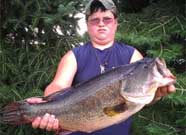 12-year old Daniel Hollar shows off a monster bass he caught on a buzzbait.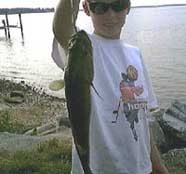 Devin Davis with a nice bass.
---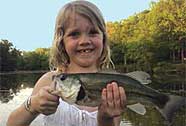 5-year old Savanna Grogan with her first Bass, and a big smile.
---
Take a kid fishing and bring your camera! These are a few of the places to take them fishing and get some great pictures.
Alexandria
- Jones Point Park
Arlington
- Burke Lake Park
- Cameron Run Regional Park
- Great Falls Park
- Lake Accotink Park
- Lake Fairfax Park
- Mason Neck State Park
- Occoquan Regional Park
- Pohick Bay Regional Park
Charlottesville
- Beaver Creek Lake Park
- Rivanna Reservoir
Lanexa
- iascund Creek Reservoir
Norfolk
- Lafayette Park
- Lake Whitehurst
- Ocean View Beach Park
Richmond
- Byrd Park
- James River Park
- Joseph Bryan Park
- Pocahontas State Park
Suffolk
- Western Branch Reservoir
Virginia Beach
- Bayville Farm Park
- City View Park
- False Cape State Park
- First Landing State Park
- Little Island Park
- Mount Trashmore Park
- Munden Point Park
Williamsburg
- Powhatan Creek Park
Kids fishing photos, by state.
Post VA, kids fishing pictures.
If you have photos of proud kids and their prized fish they caught in Virginia, please submit them for posting here.
Youth fishing pictures in Virginia.