Vermont Kids Fishing Photos
Youth, fish and smiles in VT.
There is nothing better than the smile on a kid while they are holding up their prize catch. We encourage you to take a kid fishing in Vermont. Take a picture of their catch and let us post it here. They don't have to be trophy fish, trophy smiles are what it's all about.
Youngsters with their prized catch
Chase Stokes, age 8 caught this 19-inch brown trout while fishing in Otter Creek.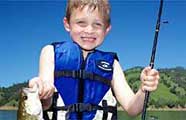 This could be your child, grandchild or any kid you took fishing. Take a picture and send it to us. We will happily post it here for them.
Take a kid fishing and bring your camera! These are a few of the places to take them fishing and get some great pictures.
Consider these small lakes, ponds, creeks and urban fishing locations as places to take a kid fishing in Vermont.
Brighton
- Island Pond
Morrisville
- Lake Groton
Burlington
- Leddy Park
- Oakledge Park and Beach
- Waterfront Park
Maidstone
- Maidstone Lake
Montpelier
- Dog River in Washington County
- North Montpelier Pond
Salisbury
- Lake Dunmore
Kids fishing photos, by state.
Post VT, kids fishing pictures.
If you have photos of proud kids and their prized fish they caught in Vermont, please submit them for posting here.
Youth fishing pictures in Vermont.