Wisconsin Kids Fishing Photos
Youth, fish and smiles in WI.
There is nothing better than the smile on a kid while they are holding up their prize catch. We encourage you to take a kid fishing in Wisconsin. Take a picture of their catch and let us post it here. They don't have to be trophy fish, trophy smiles are what it's all about.
Youngsters with their prized catch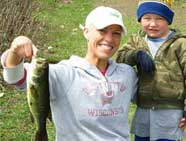 Three year old Finley Patrick Yager's first bass, caught on a worm.
Nicolas Phillips, with dad and his muskie that he caught Oct 6, 2007 at Lake Wissota with a Zebco 33 push button rod and 6 lb. test line. With a crappie minnow and 25 minute fight on his hands, he let me help him get it in the boat.
---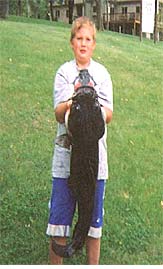 Trenton Dykstra shows off a huge catfish he caught at Lake Wisconsin.
---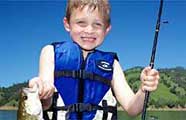 This could be your child, grandchild or any kid you took fishing. Take a picture and send it to us. We will happily post it here for them.
---
Take a kid fishing and bring your camera! These are a few of the places to take them fishing and get some great pictures.
Consider these small lakes, ponds, creeks and urban fishing locations as places to take a kid fishing in Wisconsin.
Chippewa
- Otter Lake County Park
Elkhorn
- Lake Como
Fond du Lac
- Fond du Lac's Lakeside Park
Germain
- Rainbow Flowage
Green Bay
- T A Pamprin Park
- Reforestation Camp Ponds
Kenosha
- Paddock Lake
Madison
- Brittingham Park
- Capital Springs St Park
- Marshall Park
- Olin Park
- Paunack Park
- Tenney Park
- Warner Park
Milwaukee
- Holler Park Pond
Montreal
- Gile Flowage
Oconomowoc
- Oconomowoc Lake
Oshkosh
- Rainbow Park
- William Steiger Park
Pelican Lake
- Pelican Lake
Racine
- Barbee Park
- Brose Park
- Clayton Park
- Island Park
- Lincoln Park
- North Beach Park
Kids fishing photos, by state.
Post WI, kids fishing pictures.
If you have photos of proud kids and their prized fish they caught in Wisconsin, please submit them for posting here.
Youth fishing pictures in Wisconsin.