West Virginia Kids Fishing Photos
Youth, fish and smiles in WV.
There is nothing better than the smile on a kid while they are holding up their prize catch. We encourage you to take a kid fishing in West Virginia. Take a picture of their catch and let us post it here. They don't have to be trophy fish, trophy smiles are what it's all about.
Youngsters with their prized catch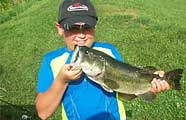 Gunner Richardson, age 9, with his largemouth bass caught in West Virginia on a K&E BassStopper pre-rigged, purple worm. He caught his trophy bass in a farm pond.
---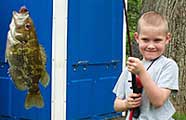 Gaven Tennant caught this Rock Bass below Tygart River Dam in Taylor County on May 22, 2005. He caught it on a night crawler and reeled it in by himself.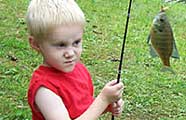 Cloman Tennant & His Bluegill. Three-year old Cloman caught his bluegill on a meal worm at Joanne Sportsmans club at Rachel WV, on sunday May 28 2006.
---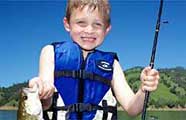 This could be your child, grandchild or any kid you took fishing. Take a picture and send it to us. We will happily post it here for them.
---
Take a kid fishing and bring your camera! These are a few of the places to take them fishing and get some great pictures.
Consider these small lakes, ponds, creeks and urban fishing locations as places to take a kid fishing in West Virginia.
Charleston
- Anderson Lake
- Daniel Boone Park
- Haddad Riverfront Park
- Ridenour Lake
Huntington
- McClelland Park
Kiahsville
- East Lynn Lake
Lavalette
- Beech Fork Lake
Morgantown
- MEA Fishing Pier
- South University Park
Kids fishing photos, by state.
Post WV, kids fishing pictures.
If you have photos of proud kids and their prized fish they caught in West Virginia, please submit them for posting here.
Youth fishing pictures in West Virginia.