Crappie Fishing in Oklahoma
Crappie are actually a member of the sunfish family and can be found in all the continental states. They are known by many different names, typically based on geographic location. Paper mouth, goggleye, bridge perch and speckled perch, just to name a few.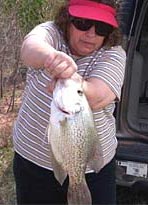 Crappie Fishing Lakes In Oklahoma
Broken Bow Reservoir, Canton Lake, Fort Gibson Reservoir, Grand Lake, Hugo Lake, Kaw Lake, Keystone Lake, Lake Carl Blackwell, Lake Eufaula, Lake Hudson, Lake Murray, Lake Texoma, Oologah Lake, Robert S Kerr Reservoir, Sardis Lake, Skiatook Reservoir, Tenkiller Lake, Waurika Lake and Webber Falls Reservoir all have significant populations of crappie. Smaller lakes, ponds and rivers across the state are likely to have a crappie or two as well.
Lake Eufaula was home to the Oklahoma state record white crappie and the OK state record black crappie was caught out of a private pond.
Black Crappie
Promoxis nigro-maculatus
White Crappie
Promoxis annularis
Both the black and white crappie grow to over five pounds while three quarters of a pound to a pound is more typical.
If you have information, articles or photos relating to crappie which you would like to see published under Oklahoma crappie articles, please submit them for consideration.
Use the state listing to the left to locate crappie fishing lakes in other states.
OK Crappie Fishing - All About Fishing for Black Crappie and White Crappie in Oklahoma.