Fishing At Manasquan Reservoir
AKA: Lake Manasquan
What to fish for...
Guide to fishing for largemouth bass, smallmouth bass, channel catfish, black crappie, bluegill, yellow perch, hybrid striped bass, chain pickerel and tiger muskie at Manasquan Reservoir in New Jersey.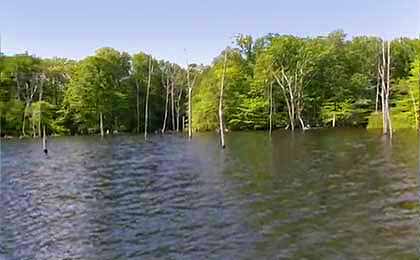 Offering a nice variety of fish species, Manasquan Reservoir also provides the chance to land a tropy-size fish. This 700-acre lake in the east-central part of the state, is stocked with bass, catfish, crappie, chain pickerel, perch, bluegill and tiger muskie.
Manasquan Reservoir, located in central New Jersey, is a popular fishing destination known for its excellent fishing opportunities, scenic beauty, and recreational activities. The reservoir offers anglers a chance to catch a variety of fish species while enjoying the serene surroundings.
One of the primary attractions for anglers at Manasquan Reservoir is the largemouth bass fishery. The reservoir is home to a healthy population of largemouth bass, providing anglers with plenty of opportunities to test their skills and land some impressive catches. The bass in Manasquan Reservoir can be found near submerged structures, including fallen trees, weed beds, and rocky areas.
In addition to largemouth bass, the reservoir is also known for its thriving population of hybrid striped bass. These hard-fighting fish offer anglers an exciting challenge and are highly sought after. Hybrid stripers can be found in the deeper sections of the reservoir, particularly around the dam area and submerged structures.
Boating is a popular activity on Manasquan Reservoir, and anglers have the option to bring their boats or rent them from the onsite boat rental facility. The reservoir allows electric motors only, ensuring a quiet and peaceful fishing experience. Boaters can explore the reservoir's vast expanse, target different fishing spots, and enjoy the scenic views of the surrounding woodlands.
Camping is not permitted directly on the reservoir, but there are several campgrounds and lodging options available nearby, allowing anglers to extend their fishing trips and fully immerse themselves in the outdoor experience. These campgrounds provide convenient access to the reservoir and offer amenities such as campsites, picnic areas, and hiking trails.
Anglers visiting Manasquan Reservoir should be aware of the fishing regulations and license requirements set by the New Jersey Department of Environmental Protection to ensure compliance with state guidelines.
Overall, Manasquan Reservoir offers a rewarding fishing experience, with opportunities to catch a variety of fish species, including largemouth bass and hybrid striped bass. Whether you're casting from a boat, exploring the reservoir's nooks and crannies, or simply enjoying the tranquility of the surrounding nature, Manasquan Reservoir provides a picturesque setting for anglers to relax and reel in some memorable catches.
The lake encompasses about 8 miles of shoreline, some of which is accessible for shoreline fishing-particularly along the 5-mile perimeter trail. A boat launch ramp is available on the south side of the lake at the Joseph Irwin Recreation Area. Kayaks and canoes can be portaged from several places around the lake.

Primary fish species residing in Manasquan Reservoir
Click images for fishing tips and details about each species.
Manasquan Reservoir Amenities
Marina: NO
Boat Rental: YES
Boat Launch Ramp: YES
Campgrounds: NEARBY
RV Hookups: NEARBY
Lodging: YES
Convenience Store: YES
Bait & Tackle: NO
Restaurant: YES
Today's Weather & Forecast
Fishing Boat Rentals
Manasquan Reservoir Kayak Rental
Rentals: Fishing boats, canoes and kayaks
732 919-0996
Public Boat Launch Ramps & Landings
Manasquan Reservoir Visitor Center Boat Launch Ramp
Located mid lake, on the south side of the lake, off Windeler Road, this is a two-lane, and a four-lane, concrete ramp with docks and paved parking.
Click here for a New Jersey Fishing License.
Campgrounds & RV Parks Nearby
Allaire State Park Campground - 732 938-2371
Manasquan Reservoir NJ Map - Fishing & Camping Areas
Lake Video
Contact Information
Manasquan Reservoir
Allaire State Park
Atlantic Ave
Howell, NJ 07731
732 938-2371
Fishing lakes in each state.
Manasquan Reservoir in New Jersey.
NEW JERSEY


Information about fishing lakes in New Jersey
Manasquan Reservoir offers bass, catfish, crappie, chain pickerel, perch, bluegill and tiger muskie fishing in central NJ.
Fishing on Manasquan Reservoir.