Guide To Taking Kids Fishing In New Jersey
Ideas and locations to take kids fishing in NJ.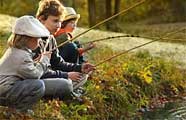 New Jersey provides numerous opportunities for kids to get involved in fishing and enjoy the thrill of catching fish. Several fish species are particularly suitable for young anglers due to their abundance and ease of catch.
One popular fish species for kids fishing in New Jersey is the sunfish. Sunfish, including bluegill and pumpkinseed, can be found in many ponds, lakes, and slow-moving rivers across the state. These colorful fish are known for their willingness to bite and provide an excellent introduction to fishing for children. Sunfish can often be caught using simple techniques like bobber fishing with worms or small baitfish.
Another common fish species targeted by young anglers is the stocked trout. The New Jersey Division of Fish and Wildlife stocks many lakes, ponds, and rivers with rainbow trout, brown trout, and brook trout, providing ample opportunities for kids to reel in these beautiful fish. Trout fishing in stocked waters is usually most productive during the spring and fall seasons, and anglers often use simple bait such as worms, corn, or prepared trout baits to entice the fish.
Urban fishing locations are particularly convenient for kids fishing in New Jersey, as they are often easily accessible and provide a suitable environment for young anglers. Places like local ponds, city parks with fishing ponds, and fishing piers along rivers or coastlines are popular choices for urban fishing. These locations are often stocked with fish and may offer amenities such as fishing platforms, picnic areas, and restroom facilities, making them family-friendly spots for kids to enjoy a day of fishing.
Examples of urban fishing locations in New Jersey include Echo Lake in Mountainside, Verona Park Lake in Verona, and Mercer Lake in Mercer County Park. These locations provide opportunities to catch a variety of fish species, including sunfish, trout, catfish, and bass.
It's important to note that fishing regulations, including size and bag limits, apply to kids fishing as well. Parents or guardians should familiarize themselves with the specific fishing regulations for the chosen location and ensure that kids are fishing in compliance with those regulations.
New Jersey's abundant fish populations and urban fishing locations make it an ideal place for kids to learn and enjoy the sport of fishing. With the right equipment, guidance, and respect for fishing regulations, young anglers can create lifelong memories and develop a love for the outdoors through the joy of catching fish.

Fishing and the great outdoors offers kids an alternative to many influences they encounter in their busy lives today. A single fishing trip could be the turning point in a young life, and we encourage you to invest the time in New Jersey kids. The rewards are endless and it takes so little effort.

Places in New Jersey to take kids fishing
Consider these small lakes, ponds, creeks and urban fishing locations as places to take a kid fishing in the Garden State.
Boonton
- Jersey City Reservoir
Edison
- Donaldson Park
- Cheesequake State Park
- Lake Roosevelt Park
- Spring Lake Park
Greenwich
- Merrill Creek Reservoir
Harrington Park
- Oradell Reservoir
- Overpeck Creek County Park
Hawthorne
- Goffle Brook Park
- Point View Reservoir
Lakewood
- Lake Shenandoah Park
- Ocean County Park
Millville
- Union Lake Park
Newark
- Grover Cleveland Park
- Irvington Park
- Orange Park
- Verona Park
- Weequahic Park
Oak Ridge
- Oak Ridge Reservoir
Trenton
- Mercer County Park
- Whitehead Pond
Top 3 tips for taking kids fishing in NJ
1. Make sure that the goal is to have fun. Catching fish is a bonus.
2. Keep it simple. Simple tackle, techniques and locations.
3. Keep the focus on the kids. Be a hero by helping them enjoy the day.
Click here for additional tips to create a successful day of fishing for kids.
Kids Fishing Video
Youngsters with their prized catch
---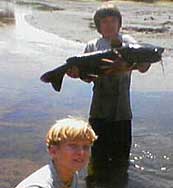 James and Chuck Elmendorf went fishing Memorial Day morning in a Medford lake and caught what may be a new state record White Catfish, estimated to weigh over 16 lbs. The boys are skilled catch and release anglers and were committed to making sure the fish lived, so it was not killed simply to get an official weight.
This was a true team effort. The fish was hooked by Chuck (12 yrs old) who fought the fish while younger brother James went home to retrieve a large fish net from his garage. When he returned, unable to locate the net, Chuck handed the rod over to his little brother who skillfully fought the monster ("Big Bertha" they later named her) on 6 lb. monofilament for over 10 minutes until the net arrived. The catch has been entered into the New Jersey Division of Fish and Wildlife Skillful Angler Awards Program.
---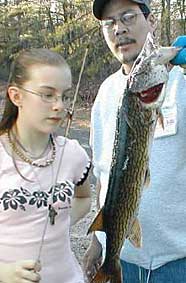 Stephanie Connell with her catch held by Uncle Dennis.
We were fishing in a secret location and i was using a 2' ice rod and i saw a fat fish swim to the top of the surface and I told my uncle and stopped reeling in the line so i can try to catch it and he kept saying that it was the lure skimming the surface of the water. I was trying to explain to him that the thing i saw was too big to be my lure and that it had to be a fish. He kept telling me that it wasn't a fish and since i stopped really in the line, i felt a hard tug on my pole and I started pulling and reeling in the line. I got the fish up to the edge of the water, but it let go and got away. I wasn't able to catch it because his lip was too tough for the tiny hook and it didn't go through. After it got away I was disappointed because I been fishing for 2 days in a row and hadn't caught a single fish. I told my uncle that I was going to keep trying to catch it. Than about 20 minutes later, my uncle Dennis started fishing and he got a bite. When the fish got to shore, we found out that it was the same fish that took my bait. When my uncle pulled it out of water, the fish snapped his pole in half. He was a Chain Pickerel and was about 27" and weighed about 5 pounds. I named the fish Big Mac because of a story i had read that day about a huge fish that was hard to catch and broke a lot of peoples poles. We got a lot of photos of the fish and then we let it go. We all believe in catch and release fishing. My uncle tells everyone that I caught the fish because I caught it but it got away but I give him most of the credit because he re-caught it and reeled him in. Enjoy our picture of our fish, Big Mac.
---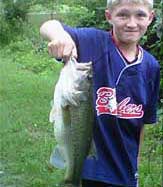 10-year old, Sean Dugan with a very nice, New Jersey largemouth bass!
---
Kids, fishing and smiles naturally go together. Take a kid fishing and you just might change the course of their life. Then take pictures and send us one of them holding their prized catch. We will happily post it here.
Kids fishing locations and information, by state.
Help us identify other youth fishing spots in NJ.
If you are aware of a great place to take kids fishing in your area, please let us know. We can add it to our list. Every kid that catches a fish will appreciate the fact that you made the effort.
NEW JERSEY