Fishing for Crappie
All about crappie fishing.
Crappie are actually a member of the sunfish family and can be found in all the continental states. They are known by many different names, typically based on geographic location. Paper mouth, goggleye, bridge perch and speckled perch, just to name a few.
Biologists categorize the many varieties of this specie into two main categories. Both have been introduced in many waters both north and south and they tend to adapt to most environments.
---
Black Crappie
Promoxis nigro-maculatus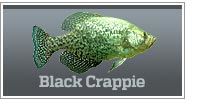 Prefers deep impoundments with fairly clear to slightly stained water with brush or trees for cover. Ideal water temperature: 66° to 76°
World record: 6 pounds, 0 ounces
The black crappie is the darker of the two species, has seven or eight dorsal spines, has spotted sides and is typically found more in the northern states. The black prefers larger, deeper impoundments.
---
White Crappie
Promoxis annularis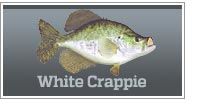 Prefers warmer, slightly stained to murky water with little or no current with brush or trees for cover. Ideal water temperature: 64° to 80°
World record: 5 pounds, 3 ounces
The white crappie which is light in color, has six dorsal spines, has eight or nine vertical bands on its sides and is found primarily in the southern states and prefers quiet backwaters. Whites are often found un murky waters.
---
Both the black and white crappie can grow to over five pounds while three quarters of a pound to a pound is more typical. Visit the crappie fishing videos section for videos about crappie fishing.
Crappie are school fish and can be caught by still-fishing, casting, trolling or drifting. Spring is the best time to catch crappie as they are involved in their spawning runs. They love cover, so locate brush, stumps or artificial cover at appropriate depths and you are likely to find crappie. At dawn you may find them close to the surface. As the sun hits the water they drop to 5 or 10 feet deep depending on water clarity. As the sun gets higher in the sky they may retreat to deeper water, 25 feet or more. As the sun begins to set they will move back up to the shallows and finish the day at the surface as dusk turns to darkness. Typically they return to deeper water for the night and may occasionally do some feeding during the dark hours.
Baits which imitate minnows, insects, worms or small crustaceans will attract crappie. The more aggressive the crappie are, the faster you can move the bait to cover more water.
The purpose of the page is to provide specific detailed information about fishing for crappies. Find information on basic trends and seasonal patterns of both black and white crappie in your local waters by visiting the crappie fishing page for your state. See state list below. Find tips, recommended tackle, techniques and more.
Fishing for black crappie and white crappie by state.
Learning To Fish For Crappie
We want to help you make your crappie fishing trips more successful. Use the navigation on the left to locate specific information about crappie fishing in your state.
If you have information, articles or photos relating to crappie which you would like to see published here, please submit them for consideration. We will gladly give you credit for your contribution. Crappie articles can be listed under the general crappie category of our main fishing articles page or can be listed under fishing articles in a specific state.
If you offer crappie fishing guide services, you can choose from two listing options to promote your guide services, by visiting our advertising section.
All About Fishing for Black or White Crappie.