Guide To Fishing At Bankhead Lake
AKA: Bankhead Reservoir, Lake Bankhead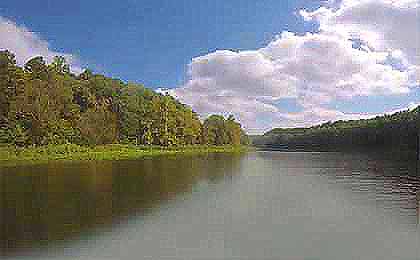 Offering a broad range of fish species to pursue, Bankhead Lake is a 9,000-acre fishing lake, 20 miles west of Birmingham, AL. Five public facility use areas and fourteen user fee areas are available for accessing these waters to fish from the bank and launch small watercraft like canoes and kayaks.
Bankhead Lake, located in northwestern Alabama, offers anglers a picturesque setting for fishing, boating, and camping. Spanning over 9,000 acres, the lake provides a diverse range of fishing opportunities for both recreational and avid anglers.
One of the popular fish species found in Bankhead Lake is largemouth bass. The lake's structure, including submerged vegetation, fallen trees, and rocky areas, provides excellent habitat for bass. Anglers can target largemouth bass using a variety of techniques, including flipping jigs, crankbaits, and topwater lures. Spring and early summer are prime seasons for bass fishing when the fish are more active and likely to be found near the shallows.
Crappie fishing is also popular in Bankhead Lake, with both black crappie and white crappie present. Anglers can locate crappie around submerged structures such as brush piles, bridge pilings, and submerged trees. Live minnows, jigs, and small plastic baits are effective in enticing crappie to bite. The spring and fall seasons tend to yield the best crappie catches, particularly during the spawning periods.
Bankhead Lake offers opportunities for catfish anglers as well. Channel catfish and flathead catfish are commonly caught in the lake. Anglers can target catfish using a variety of baits such as chicken liver, nightcrawlers, or cut bait. The lake's deep channels and areas with structure are productive spots for catfish fishing. Night fishing can be particularly successful for catfish, as they are more active during this time.
Boating is a popular activity on Bankhead Lake, allowing anglers to explore different areas and access prime fishing spots. The lake provides ample space for boats, pontoons, and kayaks. There are several boat ramps available for launching, making it convenient for anglers to get on the water. Additionally, Bankhead Lake offers camping facilities, including both tent and RV camping sites, allowing anglers to extend their fishing trips and enjoy the natural surroundings.
Before fishing at Bankhead Lake, it's essential for anglers to familiarize themselves with Alabama fishing regulations and obtain the necessary licenses. This ensures compliance with size and bag limits, as well as any specific regulations for the targeted fish species.
Overall, Bankhead Lake offers anglers a peaceful and scenic fishing experience, with an abundance of popular fish species and opportunities for boating and camping. Whether you're targeting bass, crappie, or catfish, the lake provides ample opportunities for a rewarding fishing adventure in the beautiful Alabama landscape.
Numerous boat launch ramps provide access for pleasure boats, pontoons and fishing boats. There are over 400 miles of shoreline, mostly brushy banks with scattered boat docks - all providing cover for baitfish and feeding fish. Multiple, annual stockings of rainbow trout keep a healthy supply available for trout fishing. The lake has quality stripers and hybrid striped bass which roam deep in summer and winter, migrating up river and shallower in Spring and fall. Healthy populations of crappie, bass, catfish, bluegill and sunfish also populate the lake creating many choices for anglers. Bass have been a long-standing favorite here and the lake is home to many bass tournaments annually.

What to fish for...
Fishing for largemouth bass, spotted bass, channel catfish, flathead catfish, black crappie, white crappie, rainbow trout, bluegill, redear sunfish, striped bass and hybrid striped bass at Bankhead Lake in Alabama.
Primary fish species residing in Bankhead Lake
Click images for fishing tips and details about each species.
Bankhead Lake Amenities
Marina: YES
Boat Rental: YES
Boat Launch Ramp: YES
Campgrounds: YES
RV Hookups: YES
Lodging: NEARBY
Convenience Store: NEARBY
Bait & Tackle: NEARBY
Restaurant: NEARBY
Today's Weather & Forecast
Public Boat Launch Ramps & Landings
Franklin Ferry Marina Boat Ramp
Located mid lake, west side, off Jenny Lane, this is a one-lane, concrete ramp with gravel parking.
Quinns Landing Boat Launch Ramp
Located mid lake, west side, off Quinns Landing Road, this is a one-lane, concrete ramp with gravel parking.
Smith Camp Boat Launch Ramp
Located mid lake, east side, off Carlie Minor Road, this is a two-lane, concrete ramp with docks and gravel parking.
Click here for a Alabama Fishing License.
Campgrounds & RV Parks Nearby
Burchfield Branch Park Campground - 205 497-9828
Clevenger's Marina Park & Rec Campground - 205 491-6684
Deerlick Creek Public Use Area Campground - 205 759-1591
Lake Bankhead AL Map - Fishing & Camping Areas
Lake Video
Contact Information
Bankhead Lake
Franklin Ferry Marina
520 Marina Rd
Adger, AL 35006
205 686-7601
Fishing lakes in each state.
Bankhead Lake in Alabama.
ALABAMA


Information about fishing lakes in Alabama
Bankhead Lake provides trout, striper, bass, catfish, crappie and other species for fishing in north-central AL.
Fishing on Bankhead Lake.