Fishing At Wilson Lake
AKA: Lake Wilson
What to fish for...
Guide to fishing for llargemouth bass, smallmouth bass, spotted bass, channel catfish, flathead catfish, blue catfish, black crappie, white crappie, bluegill, redear sunfish, white bass, yellow perch, hybrid striped bass, striped bass and sauger at Wilson Lake in Alabama.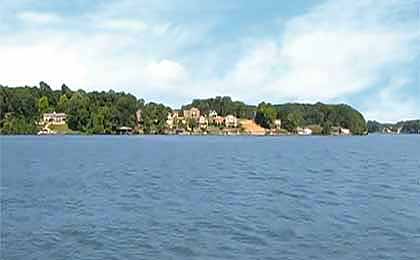 A smallmouth bass haven, Wilson Lake is nestled between Florence and Decatur, AL on the Tennessee River. This 15,000-acre lake has over 150 miles of shoreline which houses a wide variety of fish species.
Wilson Lake, located on the Tennessee River in Alabama, is a prime fishing destination known for its diverse fish populations and picturesque surroundings. Spanning over 15,930 acres, the lake offers anglers a wide variety of fish species to target.
Bass fishing is a major draw at Wilson Lake, with smallmouth bass, largemouth bass and spotted bass being popular targets. The lake's structure, including submerged vegetation, rocky areas, and drop-offs, provides excellent habitat for bass. Anglers can target bass using various techniques such as topwater lures, jigs, and crankbaits. Spring and fall are typically the best seasons for bass fishing, as the fish are more active and feeding aggressively.
In addition to bass there are crappie, catfish, bluegill, white bass, yellow perch and both stripers and hybrid stripersresiding in the lake which offers a multitude of fishing opportunities. If you like to fish from shore, there are numerous spots to wet a line - including a fishing pier with handicap access. Boat docks, timber, bluffs and some backwater brush provide the primary cover for predator fish species. Schooling fish follow the bait - typically deep in summer and winter, moving shallower in Spring and Fall. Numerous boat ramps are located around the lake for launching pleasure and fishing boats of all kinds. Kayaks, canoes and small fishing boats can be portaged from many of the shoreline fishing locations. Marinas, stores, camping and lodging are also scattered around the lake for convenience.
Catfish are another sought-after species in Wilson Lake, with channel catfish and blue catfish being the primary catches. Anglers can target catfish using a variety of baits such as cut bait, chicken liver, or stinkbaits. The lake's deep channels, points, and areas with structure are prime spots for catfish fishing. Night fishing can be particularly productive for catfish, as they are more active during this time.
Perch, including white perch and yellow perch, are abundant in Wilson Lake. These panfish provide excellent opportunities for anglers of all ages. Anglers can target perch using small hooks and live bait, such as worms or small minnows. Perch are often found near submerged vegetation, along rocky shorelines, or near structure.
Crappie fishing is also prevalent in Wilson Lake, attracting anglers year-round. Both black crappie and white crappie can be found in the lake. Anglers often have success targeting crappie around submerged brush piles, fallen trees, and bridge pilings. Live minnows, jigs, and small plastic baits are effective in enticing crappie bites. The spring and fall seasons, especially during the spawning periods, tend to be the most productive for crappie fishing.
Sunfish, such as bluegill and redear sunfish (shellcracker), are abundant in Wilson Lake. These panfish provide enjoyable fishing experiences for both adults and children. Anglers can target sunfish using small hooks and live bait, such as worms or crickets. Sunfish are often found near shallow areas, submerged vegetation, or around structure.
Wilson Lake is also known for its populations of sauger, white bass, striped bass, and hybrid stripers. These game fish provide exciting action, especially during their seasonal migrations and feeding frenzies. Casting or trolling with artificial lures such as jigs, spoons, or crankbaits can yield great results.
Boating is a popular activity on Wilson Lake, providing anglers with the opportunity to explore different areas and access prime fishing spots. The lake offers several boat ramps for easy launching, accommodating various watercraft such as boats, pontoons, and kayaks. Additionally, camping facilities and RV parks are available around the lake, allowing anglers to extend their fishing trips and immerse themselves in the natural surroundings.
In summary, Wilson Lake in Alabama offers anglers a rewarding fishing experience with its diverse fish species, ample boating opportunities, and camping facilities. Whether you're targeting bass, catfish, perch, crappie, sunfish, sauger, white bass, striped bass, or hybrid stripers, Wilson Lake provides a scenic and serene setting for anglers to enjoy their fishing adventures and create lasting memories.

Primary fish species residing in Wilson Lake
Click images for fishing tips and details about each species.
Wilson Lake Amenities
Marina: YES
Boat Rental: YES
Boat Launch Ramp: YES
Campgrounds: YES
RV Hookups: YES
Lodging: YES
Convenience Store: YES
Bait & Tackle: YES
Restaurant: YES
Today's Weather & Forecast
Fishing Boat Rentals
Florence Harbor Marina
Rentals: Pontoon boats
256 768-1299
Public Boat Launch Ramps & Landings
Turtle Point Boat Launch Ramp
Located mid lake, on the north side of the lake, off 6 Pence Road, this is a two-lane, concrete ramp with a dock and paved parking.
TVA Fleet Harbor Boat Launch Ramp
Located in the southwest section of the lake, off Reservation Road, this is a two-lane, concrete ramp with a dock and paved parking.
Wilson Lake Public Boat Launch Ramp
Located mid lake, on the south side of the lake, off County Road 452, this is a two-lane, concrete ramp with a dock and paved parking.
Marinas
Florence Harbor Marina
1050 Clayborn Liles Dr
Florence, AL 35630
256 768-1299
Click here for a Alabama Fishing License.
Campgrounds & RV Parks Nearby
McFarland Park Campground - 256 740-8817
B & J Campground & RV Park - 256 665-5210
Heritage Acres RV Park - 256 383-7368
Florence City Campground - 256 740-8817
Tuscumbia RV Park - 866 930-7275
Fisherman's Resort Campground - 256 810-1880
Wilson Lake AL Map - Fishing & Camping Areas
Lake Video
Contact Information
Wilson Lake
Colbert Alloys Park
180 Alloys Park Ln
Muscle Shoals, AL 35661
256 577-9619
Fishing lakes in each state.
Wilson Lake in Alabama.
ALABAMA


Information about fishing lakes in Alabama
Wilson Lake provides some of the best smallmouth bass fishing on the Tennessee River in AL.
Fishing on Wilson Lake.