Fishing At Lake Harding
AKA: Bartlett's Ferry Reservoir
What to fish for...
Guide to fishing for largemouth bass, spotted bass, shoal bass, channel catfish, black crappie, white crappie, bluegill, longear sunfish, redear sunfish, white bass, yellow perch, striped bass and hybrid striped bass at Lake Harding in Alabama.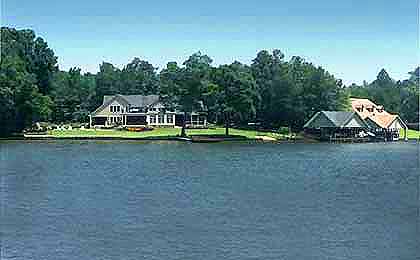 Straddling the Alabama/Georgia border, Lake Harding, AKA Bartlett's Ferry Reservoir is a 5,800-acre lake located just east of Opelika, AL. Much of the 156 miles of shoreline is dotted with boat docks - a favorite hangout for fish and baitfish.
The purpose of this page is to deliver an overview of this lake, the fishing options, and area amenities. Our goal is to provide info to first time visitors, as well as beginner and novice anglers. We gathered details from personal experience, numerous trusted websites that each offer select bits of information, and videos of fishing activity on the lake. These websites include the Outdoor Alabama, marinas at the lake, campgrounds, boat rental agencies and others. By consolidating this information to one page it allows visitors to see the entire picture, all in one place.
Lake Video
Lake Harding, also known as Bartlett's Ferry Reservoir, is a popular fishing destination in Alabama. Situated along the Chattahoochee River on the Alabama-Georgia border, Lake Harding offers anglers a diverse range of fishing opportunities.
One of the popular fish species found in Lake Harding is largemouth bass. The lake's structure, including submerged vegetation, rocky areas, and boat docks, provides excellent habitat for bass. Anglers can target largemouth bass using various techniques such as topwater lures, plastic worms, and crankbaits. Spring and fall are typically the best seasons to target bass on Lake Harding, as the fish are more active and feeding aggressively.
Crappie fishing is also popular in Lake Harding, attracting many anglers throughout the year. Both black crappie and white crappie can be found in the lake. Anglers often have success targeting crappie around submerged brush piles, bridge pilings, and fallen trees. Live minnows, jigs, and small plastic baits are effective in enticing crappie bites. The spring and fall seasons, especially during the spawning periods, are particularly productive for crappie fishing.
Lake Harding provides opportunities for channel catfish anglers as well. Anglers often target catfish using a variety of baits such as cut bait, chicken liver, or stinkbaits. The lake's deep channels, drop-offs, and areas with structure are productive spots for catfish fishing. Night fishing can be particularly successful for catfish, as they tend to be more active during this time.
Before fishing at Lake Harding, anglers should familiarize themselves with Alabama fishing regulations and obtain the necessary licenses. This ensures compliance with size and bag limits, as well as any specific regulations for the targeted fish species.
Multiple boat launch ramps are available in both states for launching pleasure and fishing boats. Kayaks, canoes and other small craft can be launched from areas with access for shoreline fishing. Bass, catfish, stripers, hybrid striped bass, perch, crappie, white bass and sunfish roam these waters awaiting anglers. In Spring and Fall most fish move shallow, then deeper in summer and winter. Schooling fish like stripers and white bass follow schools of baitfish, often to the surface in warm water and quite deep in colder water. Campgrounds are available in the area, in both GA and AL.

Primary fish species residing in Lake Harding
Click images for fishing tips and details about each species.
Lake Harding Amenities
Marina: YES
Boat Rental: YES
Boat Launch Ramp: YES
Campgrounds: YES
RV Hookups: YES
Lodging: NEARBY
Convenience Store: NEARBY
Bait & Tackle: NEARBY
Restaurant: YES
Today's Weather & Forecast
Boating is a popular activity on Lake Harding, allowing anglers to explore different areas and access prime fishing spots. The lake provides ample space for boats, pontoons, and other watercraft. There are several boat ramps available for launching, making it convenient for anglers to get on the water.
Public Boat Launch Ramps & Landings
Dam Boat Launch Ramp
Located in the southwest section of the lake, off Lee Road 334, this is a two-lane, concrete ramp with a dock and paved parking.
Long Bridge Boat Launch Ramp
Located mid lake, west side, at the north end of the Lee Road 379 Bridge, this is a two-lane, concrete ramp with a dock and paved parking.
River View Boat Launch Ramp
Located in the northwest section of the lake, off Lower Street, this is a one-lane, concrete ramp with gravel parking.
Valley Park Boat Launch Ramp
Located mid lake, west side, off County Road 370, this is a two-lane, concrete ramp with a dock and paved parking.
Marinas
Backwaters at the Landing
9825 Lee Road 379
Valley, Alabama 36854
334 759-7049
Click here for a Alabama Fishing License.
Lake Harding also offers camping options, including both tent and RV camping sites, allowing anglers to extend their fishing trips and enjoy the natural surroundings.
Campgrounds & RV Parks Nearby
Lakeside RV Park Campground - 334 745-5414
Sawyer's Mobile Home & RV Estates - 334 298-7503
Spring Villa Campground - 334 705-5552
I-85 RV Park Campground - 334 756-4302
Birditt's Mobile Home & RV - 706 590-5591
Lake Harding AL Map - Fishing & Camping Areas
Contact Information
Fishing lakes in each state.
Bartlett's Ferry Reservoir in Alabama.
ALABAMA


Information about fishing lakes in Alabama
Lake Harding produces nice stringers of bass, white bass, stripers and crappies.
Fishing on Bartlett's Ferry Reservoir.